Britney Spears 'V' Magazine Photos: Twitter Doesn't Recognize Vegas Singer on New Cover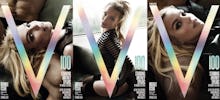 Mic/Twitter
#NotMyBritney. V magazine likely expected some Twitter hype to come with the release of its 100th issue, which features pop-star-turned-Vegas-performer Britney Spears, but the amount of vitriol and backlash it received was almost unprecedented — likely because some social media users said they couldn't even recognize it was her on the cover. 
Of course, most headlines miss the alleged photoshopping Twitter almost instantly picked up on Tuesday, with headlines reading "Britney Spears Gets Sultry For 'V' Magazine" and "Britney Spears Rocks Bondage Bodysuit and Thigh-Highs." If you ask Spears' fans, however, they can't even be sure that's even her.
Read more: Britney Spears Supports Hillary Clinton, but She Cries Cries Cries With Her Lonely Heart
The photos — three separate covers for the magazine's 100th issue — show Spears in a black strapped shirt, high heels with red bottoms and black sheer stockings. The photos were shot by Mario Testino, a photographer also known to have worked with the Kardashians and several major celebrities. In two of the photos, Spears' accompanies a male model with perfectly sculpted thighs and a torso, though his face isn't shown.
"On stands this week!!" Spears tweeted about the cover. "@VMagazine and @MarioTestino know how to make mag cover magic." Of course, fans took the bait for an easy set up: "Sure is magic," one wrote. "Considering it's 2016 and this looks like you a decade ago."
Other Twitter users weren't fooled, either:
"If this is Britney Spears then I'm a real woman." One drag queen even tweeted.
Spears however, likely isn't stressed about the photoshopping rumors. In the accompanying V magazine interview, the 34-year-old artist shrugs off media scrutiny, saying, "Whoever is in the spotlight, people are really quick to judge. I mean, there are a lot of kids coming up who've experienced that. You know, Justin Bieber, he's huge, and he experiences that. It's just the way the world works, unfortunately," according to DailyMail.