A Syphilis Outbreak Is Plaguing Las Vegas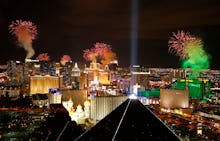 What happens in Vegas may not always stay in Vegas.
Officials in Clark County, Nevada, home to Sin City, issued an official warning about a syphilis outbreak after confirming 694 new cases of the sexually transmitted infection, 615 of them in men, according to the Las Vegas Review-Journal. That's a 128% increase over the number of cases confirmed in 2012.
The increase gives Nevada the dubious honor of the state in the western U.S. with the highest rate of syphilis, according to the Associated Press. 
"We are considering this an outbreak because disease rates in our community are continuing to climb and we see no plateau at this point," Chief Health Officer Joe Iser said in a statement to the Review-Journal.
In its early stages, the bacterial infection can cause open sores called chancres that are often mistaken for a symptom of some other condition, according to the CDC. In later stages of the condition, it can cause rashes across the body, or invade the ocular or nervous systems, potentially leading to life-threatening complications.
While some of the increase in syphilis rates could be tied to population increases or increased detection rates, the AP reported, health officials say an increase in inconsistent condom use as well as anonymous app-assisted hookups hold some of the blame.
That latter explanation is more complicated than it seems, since meeting people online is just one potential risk factor for contracting a sexually transmitted infection.
"It's never as simple as being 'just' about an app," Debby Herbenick, an Indiana University sexual health expert, told Mic's Nicolas DiDomizio in 2015. "I have had a few students who have met sex partners through Tinder and gotten an STI through such encounters, but I've also had students who have gotten STIs from people they were dating or had sex with at a party, who they had just met."
Las Vegas disease investigator Elizabeth Adelman told the AP that health authorities had "sought permission for a passive presence on platforms such as the gay website Adam4Adam, so users can reach out to them for information. Other popular apps that officials are looking at include Tinder and Grindr."