Here Are the Biggest Movies Coming Out in Theaters March 2016 You Don't Want to Miss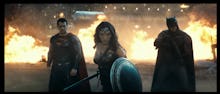 YouTube
With a new month comes a new slew of movies hitting theaters — broadly, February saw the reign of Deadpool and the subsequent whitewashing flop of Gods of Egypt. March presents a variety of films that could stake similarly successful claims like the "Merc with the Mouth" in their impending debuts. 
From a metropolitan city filled with animals, to the inevitable clash between two of the world's greatest superheroes, here are the biggest movies coming out in March — many of which you won't want to miss. 
Read more: The Real and Extraordinary Science of Deadpool's Superpowers
Zootopia (March 4): The reviews are already in, and as of writing, Zootopia already has a resounding 100% on Rotten Tomatoes. Disney's latest animated film features an unlikely duo in the animal-filled metropolis — a bunny cop (Ginnifer Goodwin) and a fox con artist (Jason Bateman) — who must work together to uncover layers of a conspiracy. 
"Just when it was looking like animated animal movies had run out of anything original to say, along comes the smartly amusing, crisply relevant Zootopia to handily demonstrate there's still plenty of bite left in the anthropomorphic CG menagerie," Michael Rechtshaffen wrote for the Hollywood Reporter. 
Knight of Cups (March 4): It's a Terrence Malick film, which should either make Knight of Cups a must-see or a film to completely avoid, depending on your view of the experimental director. In Knight of Cups, Christian Bale stars as a screenwriter searching for love and self in the midst of the chaos of Hollywood and Las Vegas. Reviews are mixed, but again, for a Malick film it's unsurprising. 
"Many will run screaming from Knight of Cups, even as some of us are enraptured," Bilge Ebiri wrote for the Village Voice. "At times, Malick almost seems to welcome this polarized response." 
Whiskey Tango Foxtrot (March 4): Off the heels of her 2015 comedy Sisters alongside former Saturday Night Live co-star Amy Poehler, Tina Fey's returned with another comedy in a unique backdrop: Afghanistan. In Whiskey Tango Foxtrot, Fey's character is a journalist who volunteers to do coverage for her network in Kabul to escape her mundane American life — which, as one person in the trailer calls it, the "most American white lady story I've ever heard." 
"What work better in the movie are mostly smaller moments: the jokes that land, the rapport between the reporters, and all the weirdly ordinary ways people manage to find a new normal, even in the most WTF circumstances," Leah Greenblatt wrote for Entertainment Weekly.  
10 Cloverfield Lane (March 11): Though not considered a direct sequel to the hit monster movie Cloverfield, 10 Cloverfield Lane is, as producer J.J. Abrams put it, a "blood relative" to the original hit. While the plot details are admittedly thin, even from the trailer, a woman finds herself in an underground bunker after a car accident — and is understandably curious about the outside world after her rescuer explains it's unsafe to go outside. Anyone who enjoyed Cloverfield should take note.
The Divergent Series: Allegiant (March 18): The third film in the Divergent series — Allegiant — takes Tris (Shailene Woodley) into a new world outside the protective fence of her own. Out there, she and her friends will have to deal with the mysterious Bureau of Genetic Welfare. 
My Big Fat Greek Wedding 2 (March 25): One of the more unexpected sequels to come out in 2016, My Big Fat Greek Wedding 2 is the 14-year follow up to the original film, with the majority of the cast making a return. Unsurprisingly, another wedding is in the cards, and the eccentric Portokalos family is there to (hopefully) not ruin it. 
Batman v. Superman: Dawn of Justice (March 25): The sequel to Zack Snyder's Man of Steel has a diverse and exciting cast, which will include Batman (Ben Affleck), Lex Luthor (Jesse Eisenberg), Wonder Woman (Gal Gadot) and even Aquaman (Jason Momoa), in addition to the titular Superman (Henry Cavill). Batman v. Superman: Dawn of Justice is one of the most highly anticipated superhero films in a year filled with reboots, franchises and sequels, and will certainly reap huge box office rewards because of it.