The 4 Best Personal Finance Apps for Banking, Budgeting and $aving Big Bucks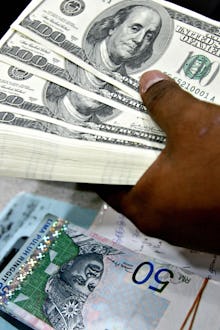 Tengku Bahar/Getty Images
Budgeting can be a tricky business, especially when so many young people must balance between bills and the expenses that come with actually having a social life. Luckily, personal finance — like everything else — has gone mobile, allowing the busy masses to set goals, manage cash flows and track expenses on the go. But which of these personal finance apps are the best?
Read more: These Are 7 Free Apps You Need to Start Using Now
In 2015, NerdWallet drew up a list of the 10 most downloaded and/or bestselling budgeting apps on the market. Because different people have different financial needs, and because most people interested in using a budgeting or banking app probably don't want to be spending the big bucks to do so, we've pared down their selections to four practical choices to help with various money woes. Here are the best banking and personal finance apps for everyday use. 
1. Budgt
Budgt is a great app for people looking to pinch every possible penny: it helps users set budgets and adjusts them daily as the month goes by. Users know how much they can afford to spend each day, showing them whether or not they're on track to save or lose money come the end of the month. 
Budgt's data is also exportable so that users can create spreadsheets separately, and the app has reminder features to make sure expenses get logged each day. It's a solid basic budgeting app and costs a budget-friendly $1.99.
2. Level Money
This free app takes a day-by-day approach to financial goals, alerting users to what they can spend on a daily basis and allowing them to compare their month-to-month expenses on frequent purchases. 
Level Money will also break down the user's income automatically, displaying their spendable cash against savings, bills, etc. It's a pared down method of viewing your financial progress and goals, useful for people who don't function well with tons of folders and app categories. Its average GooglePlay rating (of over 5,000 users) is 3.8 out of 5 stars.
3. Mint
One reason Mint is so popular is that it's widely compatible — it's available on iOS, Android and Windows devices. It lets users set budgets and break down expenses by category, compiling expenses into easily read pie charts. It notifies users when they're approaching their budgets, helps them manage bills and sends regular reports, while also offering spending and banking-specific tips to help them stick to their budgets.
Mint also includes a credit score and investment tracking options. For the organizationally oriented, it's a great option — plus, it's free. Its average GooglePlay user rating (from over 100,000 reviews) is 4.4 out of 5 stars.
4. MoneyWise 
For Android owners who find themselves wondering where in the world their money went in the weeks since their last paycheck, MoneyWise may prove a useful app. It allows users to create budgets and label expenses, consolidating spending habits into useful graphs both by category and as a whole. MoneyWise supports multiple currencies and can export data to spreadsheet software such as Excel. Its average GooglePlay user rating (from nearly 7,000 reviews) is 4.3 out of 5 stars.