Marco Rubio Falls to Donald Trump in Virginia, Ruining His Super Tuesday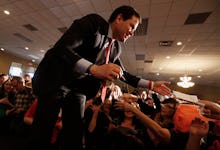 Dashing Marco Rubio's hopes of pulling off a surprise victory over Republican presidential frontrunner Donald Trump, primary voters in Virginia narrowly backed the billionaire businessman over the Florida senator.
The Associated Press called the state for Trump at 8:53 p.m. Eastern.
Though pre-primary polling had given Trump a wide lead over the GOP field, early exit polling showed Rubio within striking distance in the Old Dominion — raising the prospect that the establishment-oriented Republican would upset Trump to score his first-ever victory in a nominating contest.
But while Rubio trounced Trump in the affluent, highly educated Northern Virginia suburbs, it wasn't enough to overcome Trump's strength in more conservative and rural areas.
For Rubio, the stakes in Virginia were far higher. With his commanding lead in the delegate count, Trump could have sustained a loss in the state, even if the self-styled "winner" would prefer to run the table. But Rubio needs to show that he can do more than merely place second to the frontrunner, and a win in Virginia may have provided a jolt of momentum to his campaign heading into the must-win Florida primary on March 15, where the winner will claim all 99 delegates. 
Polling currently shows Trump solidly leading Rubio in the Sunshine State.