Super Tuesday 2016: Ted Cruz Wins Texas and Oklahoma, Living to Fight Another Day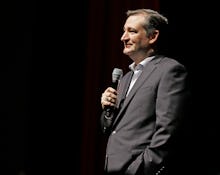 The Lone Star State didn't forget its junior senator on Super Tuesday — giving Ted Cruz, in a political sense, the gift of life in his uphill fight for the Republican presidential nomination.
Cruz carried the day in his home state of Texas and also in Oklahoma in early, unofficial results.
Significantly, Cruz remains the only Republican presidential contender to have defeated frontrunner Donald Trump in any contest.
At the very beginning of the cycle, Cruz used a superior ground game and a direct appeal to Christian conservative voters to defeat Trump in the Iowa caucuses.
Team Cruz also worked hard to cut into Trump's lead in South Carolina, a state heavily populated with self-identified evangelical voters.
But Trump managed to pull out a convincing victory in the Palmetto State — and Florida's Marco Rubio captured the coveted endorsement of South Carolina Gov. Nikki Haley, further splintering the GOP vote.
Cruz's twin Super Tuesday wins don't put him at the top of the delegate heap.
But they do have the potential to undercut Rubio's pitch to voters as being the only man who can unite the party against the Trump juggernaut.