So Much for That Two-Man Race: Ted Cruz Eclipses Marco Rubio on Super Tuesday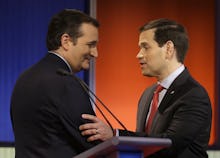 T.S. Eliot may have pronounced April the cruelest month, but for Ted Cruz, February merited that designation.
After prevailing over Donald Trump in the Iowa caucuses on Feb. 1, the Texas senator spent the remainder of the month in freefall, hounded by allegations that he'd employed "dirty tricks" to notch his Hawkeye State victory and that he'd played fast and loose with the facts in his attacks on Trump and Marco Rubio.
Read more:
Following his Iowa win, Cruz placed third in all three remaining contests — not just in secular-leaning, more moderate New Hampshire, but also in evangelical-heavy South Carolina and in rugged Nevada, states whose GOP electorates were ready-made for a candidate in Cruz's mold.
So while Cruz entered the Super Tuesday contests effectively tied with Rubio in the delegate count, the conventional wisdom held that the race was a de facto two-man race between Trump and Rubio. If Cruz couldn't even beat Trump among evangelicals in a state like South Carolina — if he couldn't even finish ahead of Rubio there — his campaign was finished. Any hope of derailing the Trump train began and ended with Rubio.
The road ahead: After Tuesday night, it remains difficult to see the argument for Cruz's viability. But the contention that Rubio could thwart Trump also looks more untenable than ever, with Rubio losing every single contest but the Minnesota caucuses, while Cruz added Texas and Oklahoma to his win column and coming within five points of Trump in Arkansas.
Rubio may have given Trump a scare in Virginia, but his inability to parlay his robust support among affluent suburbanites into an outright win points to the underlying weaknesses plaguing his establishment-oriented candidacy in a year dominated by grassroots anger at the Washington elite. 
Not only does Rubio appear fundamentally ill-suited to the GOP electorate of 2016, he can't even unite center-right voters behind his candidacy. In Vermont, Rubio lagged well behind Ohio Gov. John Kasich, who was locked in a tight battle for first place with Trump, and he may also place third behind Trump and Kasich in neighboring Massachusetts. 
Kasich's persistent strength in the moderate Northeast — three weeks after he posted a second-place showing in New Hampshire — all but ensures that establishment entreaties to drop out of the race will go unheeded. That poses significant hurdles for Rubio in states like Michigan, which votes on March 8, as well as Ohio and Illinois, where voters head to the polls on March 15. 
Meanwhile, Rubio is certain to place third behind Trump and Cruz in Alabama, Arkansas, Oklahoma, Tennessee and Texas. Cruz may also eclipse Rubio for second place in Georgia, where Trump handily won. 
Though Cruz only emerged victorious in his home state and Oklahoma on a night he'd once hoped to sweep the South, the evening's results bolstered his argument that he was the most credible challenger to Trump.
"We have seen that our campaign is the only campaign that has beaten, that can beat and that will beat Donald Trump," Cruz told supporters in Stafford, Texas, before networks called Minnesota for Rubio. He called on his remaining rivals to "prayerfully consider our coming together, uniting."
A surprising source thinks it's an option worth considering. Speaking with CBS News, Sen. Lindsey Graham of South Carolina —  who sought the GOP nod himself before supporting Jeb Bush's ill-fated White House bid — suggested that anti-Trump Republicans may have no choice besides uniting behind Cruz, a longtime nemesis of the Washington establishment:
There's no way Rubio leaves the race before Florida's March 15 primary, a winner-take-all contest with 99 delegates at stake. But the Sunshine State may be where the sun goes down on the Rubio campaign: Polls show Trump with a commanding lead there, and nothing that happened Tuesday night turned the tide in Rubio's favor.