'New York Daily News' Cover Mocks Trump After His Super Tuesday Blowout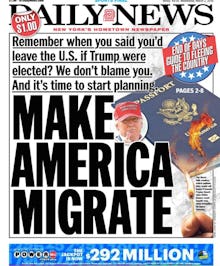 The New York Daily News took aim at Donald Trump last night with a tweet that previewed its Wednesday morning cover, anticipating — correctly — a Trump blowout on Super Tuesday. 
It also anticipated, again correctly, the reaction a Trump victory would elicit from many.
"Remember when you said you'd leave the U.S. if Trump were elected?" the cover asked "We don't blame you. And it's time to start planning,"
Read more: A Canadian Island Could Be Your Saving Grace in the Event of a Trump Presidency
In the tabloid's signature style, "Make America Migrate" splashed across the cover in big black letters , a riff on Trump's ubiquitous campaign slogan. The cover also displayed a burning passport. 
On the website, the puns continued.
In an era of withering fortunes for print and legacy media, the Daily News has carved out a niche with provocative and unapologetically partisan covers. Some examples include its Feb. 2 cover "Dead Clown Walking" after Trump's loss in Iowa, a stark takedown of alleged rapist Bill Cosby and the "God Isn't Fixing This" cover to criticize the "hopes and prayers" trope politicians tend to lean on in the wake of mass shootings.
As the reality of a Trump presidency becomes ever more palpable, a number of people on the left have renewed calls to flee the country. Some have been particularly proactive. In Canada, a radio host even started a cheeky website offering refuge to disenchanted Americans in Cape Breton, Nova Scotia.
And after Super Tuesday, many on Twitter were keen to take him up on it, with one user pointing out the Canadian government's citizenship website was "experiencing delays."