MH370 News: Debris From Missing Plane Possibly Found Off the Coast of Mozambique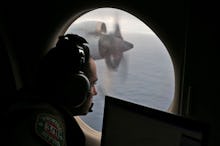 Rob Griffith/AP
A team of search investigators have found shards of a Boeing 777 that could belong to the missing Malaysia Airlines flight MH370, NBC News reported Wednesday. Sources told NBC News that investigators discovered the debris off the coast of Mozambique, and there's reason to believe it could belong to the aircraft that mysteriously fell off the map nearly two years ago. Despite extensive searching, investigators have struggled to make clear what exactly happened to the aircraft that vanished en route from Kuala Lumpur to Beijing on March 8, 2014. 
A number of theories circulated after the aircraft disappeared, an event that is believed to have ended the lives of the 239 passengers and crew members onboard. Investigators, the press and the public wondered if an engine or electrical failure had caused the plane to plummet to the sea or if terrorism was involved. Investigators shared the very last message received from the flight deck — though nothing in the exchange seemed to indicate any sign of distress.
In January 2015, investigators finally put theories to rest and officially declared an accident caused the aircraft's disappearance. 
"It is therefore, with the heaviest heart and deepest sorrow that, on behalf of the government of Malaysia, we officially declare Malaysia Airlines flight MH370 an accident," said Azharuddin Abdul Rahman, the director general of Malaysia's Department of Civil Aviation, in a statement. 
"All 239 of the passengers and crew on board MH370 are presumed to have lost their lives."
Read more: The Biggest Theories About the Missing Malaysia Airlines Plane Debunked
Based on photos of the newly discovered debris, researchers in Australia, Malaysia and the U.S. think there's a fair chance it could belong to a Boeing 777 aircraft, according to NBC News, and sources told the outlet that Boeing engineers are also studying the photos. The company has yet to release a formal statement. So far, the only debris found believed to have belonged to MH370 surfaced on the shores of Réunion, an island east of Madagascar.