Target Teams Up With Barbie for Body-Positive Swimwear Campaign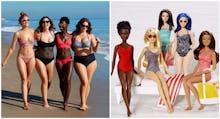 Target's at it again. The major retailer has cast models of a variety of different shapes and sizes for its latest swimsuit campaign, appropriately titled #NOFOMO.
But it didn't stop there. It also looked to the new diverse line of Barbie dolls (released in January to great praise) to show off their latest line of bikinis and tankinis. (Unfortunately, the suits aren't available for sale in Barbie sizes.)
Read more: Target Just Nailed It With This Body-Positive Swimsuit Campaign
The campaign's slogan, #NOFOMO, refers to the idea that with this range of swimsuits, FOMO (or fear of missing out) will be no more this summer. No more excuses, and no more hesitation; You can take that idea of a "bikini body" and shove it. 
Target made the announcement on Tuesday afternoon via its style Instagram @TargetStyle. Already, pretty unsurprisingly, people are responding incredibly well. Comments left under the picture of the women modeling the suits include "Sending the right message!" and "It's about time!" Under the image with the dolls: "I love how blue haired Barbie is the wide hipped one. Oh well. At least there's one who looks like me now."
Just further proof that being relatable and real really speaks to shoppers. Women are even proudly posting pictures of themselves in Target's swimsuits on Instagram and Twitter with the hashtag.
This isn't the first time Target has cast a diverse array of models for their swimsuit ads. Last summer, Target made headlines for launching a body-positive campaign similar to this one. In the ad, they cast fashion personalities of many shapes and sizes, and even put out a video that had women talking honestly about their bodies. 
At the time of Target's initial ad, the retailer told Mic that by "partnering with real women that represent a range of body types," the idea that swimsuits really are for women of all sizes gets reinforced. 
Based on the results so far from both campaigns, Target seems to be getting exactly the right feedback: Women really love to love their bodies.