Video Shows a Baltimore School Policeman Slapping and Kicking a High School Student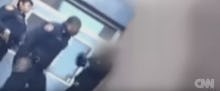 A Baltimore school police officer has been placed on administrative leave after video surfaced showing him slapping and kicking an unidentified young man at Reach Partnership High School.
In the video, reported by local station WJZ  — which first brought the video to the attention of the school — the officer assaults the kid as he tries to leave. It is not yet confirmed whether the kid is a student at RPHS, though the person who recorded the video told the CBS affiliate that he is.
Read more: This Video Is the Latest Example of How Black Girls Are Policed in US Schools
"I was totally appalled at what I saw today," Karl Perry, chief officer of school supports, told WJZ. "I'm a parent. ... No matter what the circumstances are, I am totally appalled."
(Editor's note: This video contains footage that some may find disturbing. View with discretion.)
Source: WJZ
At this time, it is unclear what sparked the conflict. The officer, who has not been named, has been reassigned while authorities investigate the matter. In addition, the station reported that the chief of the city's school police force has been placed on administrative leave. 
Baltimore police told CNN that the officer was not a member of the city's police department. Forty-three percent of U.S. public schools employ school police officers on campuses, including more than 60% of middle and high schools according to the National Center for Education Statistics, CNN reported.