Healthy and Cheap Lunch Ideas You Can Even Make in Your Dorm Room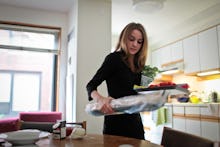 The Washington Post/Getty Images
Of all the things college is known for, eating healthy is not one of them. So for the college student who is high on stress and social interaction but low on time and money, there is still hope in avoiding the "freshman 15."
For most, going to college means a complete lifestyle change — and it's not always easy to adjust. "They're encountering levels of stress and scheduling that they've never experienced before," Penn State nutrition instructor Dr. Alison Borkowska told the Huffington Post. "They've never had this many things to be responsible for, including putting food in their mouths."
Read more: How to Eat Healthy and Avoid a Ramen-Only Diet When You're a Broke College Student
The freedom to eat pizza for both lunch and dinner combined with the convenience of heavily snacking and eating on the go all contribute to less-than-healthy habits for students, according to the Huffington Post. 
But just because your dorm room only has a microwave and a mini fridge, it doesn't mean you have to skimp on nutritious meals. Below are 10 healthy lunch ideas for the college student:
1. Super easy four ingredient mug pancakes
Combine flour, baking powder, an egg, some milk and vanilla into a mug and nuke it in the microwave for about two minutes for griddle-free, coaster-sized pancakes. Slather on some nut butter and fruit and call it brunch. Find the recipe here. 
2. Copycat burrito bowl
Combine those pre-cooked rice packets and grilled chicken that are available at the supermarket with canned black beans and heat in the microwave. Add toppings of your choice, such as guacamole or cheese, and relish in saving money from buying Chipotle. Find the recipe here. 
3. Microwave baked sweet potato
This vegetarian and gluten-free dish takes about six minutes to prepare. Just cover a sweet potato in wet paper towels and microwave until soft. Then mix a little bit of milk with protein-packed Greek yogurt and garlic for a healthy topping. Find the recipe here. 
4. Avocado toast
Spread some mashed avocado on a crunchy piece of toast for a healthy and filling meal that's easy to eat on the way to class. To make it more nutritious, consider adding smoked salmon, pesto or even an egg. Find recipes here. 
5. Avocado chicken salad
Upgrade the classic sandwich staple of chicken salad by replacing mayonnaise with mashed avocado and dijon mustard. Season with salt, pepper, cumin and citrus juice. Find the recipe here. 
6. Overnight oats
Is there any food problem that overnight oats can't solve? The answer is no. Combine the milk of your choice with some rolled oats and let it sit in the fridge overnight. Then add in any toppings, such as fruit, coconut flakes or nut butter. Grab and go for a literally effortless meal. Find the recipe here. 
7. Sushi jar
Using microwavable brown rice seasoned with sushi vinegar as the base, fill a jar with seaweed, cut carrots, cucumber and avocado. Feel free to add any other ingredients from your favorite sushi rolls. Find the recipe here. 
8. Rainbow salad in a jar
Put together a salad in a jar by layering the lightest ingredients at the top and the heaviest at the bottom. Use anything, ranging from peppers to couscous, cucumber and carrots. Find the recipe here. 
9. Breakfast burrito
Use the microwave to heat up the tortilla, eggs and optional sausage separately. While wrapping up the burrito, consider adding avocado, beans or salsa.  Strongly consider. The recipe can be found here. 
10. Eggs in an avocado
Halve and pit an avocado, then scramble one egg and pour into where the pit used to be. Microwave for two minutes. Season (and maybe top with salsa?).