These 7 Celebrities Are Leading the Way for Women's Fitness and Body Positivity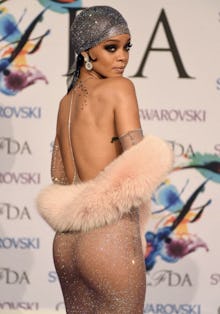 Timothy A. Clary/Getty Images
Once upon a time, exercise, female fitness and healthy eating goals were all centered around the ideal of thinness. Finally, a fitness movement is underway that's changing the conversation around body image and acceptance. 
These seven celebrities — including music artists, writers, actresses and the first lady — are some of the women who are leading the fight for body positivity. 
Read more: How Much Does Your State Care About Women's Health? Find Out With This Map
Rihanna
Not only does Rihanna have a killer body, she's also spoken out about body positivity countless times. "You have to just accept your body," she said in a 2012 interview. "You may not love it all the way, but you just have to be comfortable with it, comfortable with knowing that that's your body."
RiRi's fully embraced her curves on the red carpet with bold looks like this one from the Council of Fashion Designers of America Fashion Awards:
Katy Perry
Katy Perry told Rolling Stone in a 2011 interview that she had just learned to embrace her body after being teased in school for having wide shoulders and large breasts. Her diet and exercise routine is wholesome and healthy, not limiting and unrealistic — and her womanly curves and figure speak to that. She eats five meals a day packed with nutrient-rich foods like quinoa, grilled chicken, veggies and fruit and isn't a fan of the gym, according to PopSugar. Instead, she opts for an outdoor hike or run. Go girl.
Hannah Bronfman
This DJ, model and entrepreneurial wonder woman blew up in 2015 for a variety of reasons — one for her dedication to fitness, using her body and exercise routines as a model to help women prioritize health over thinness. Her strongest motivation, she told Teen Vogue, was her grandmother's death after struggling with an eating disorder. "That truly inspired me to get on the right track for the first time," she said. 
Bronfman struggled with her own body issues growing up an aspiring ballerina whose body type didn't fit the mold. "It took me a long time to realize I wasn't going to pursue a career as a ballerina, like I'd always imagined," she told Teen Vogue. "Once I accepted my new reality, I started celebrating myself and my freedom from that world."
Pink
Pink is a true fitness rockstar. Exercise is as mentally rewarding for the artist as it is physically. "I like feeling strong," Pink has said, according to Shape. "It keeps my mental floor higher. Even if it's a pain in the [ass] and you hate working out, the endorphins help." Pink understands that exercising shouldn't be a tool for weight loss but for mental stability and confidence instead.
She recently teamed up with UNICEF for its "Kid Power: Get Active and Save Lives" program that motivates parents and children to get active together to raise money to feed children in need. 
Ellie Goulding
Ellie Goulding's Instagram alone says enough about her warrior fitness routine. Her empowering boxing workouts are inspiring in the fiercest way, and her body-positive message to young women is exemplary. "I'm not afraid of a guy saying to me that I'm strong," she told Women's Health U.K., according to Cosmopolitan. "And I will happily post pictures of my muscles on Instagram — because I'm proud of being a strong girl."
Those abs. 
Lena Dunham
The message Lena Dunham sends to women about fitness and body positivity is more relevant than ever in the movement away from the obsession with thinness and toward sustainable health and fitness.
When the paparazzi snapped a picture of her jogging last year, she proudly shared the picture on Instagram as a testament to her hard work and newfound body confidence. "Not usually one to post a paparazzi shot but this fills me with pride," she wrote. "I felt strong, swift and proud. I'm not about to embrace that triathlon life but it's a true joy to continue getting more connected to my body and its powers."
Michelle Obama
Millennials consider Michelle Obama a top role model for body image, according to a recent Fusion/Benenson Strategy Group survey. Aside from her chiseled arms, she's helped ignite the fitness movement with her "Let's Move!" campaign aiming to tackle childhood obesity and by continuously promoting healthy eating. 
March 7, 2016, 10:46 a.m. Eastern: This story has been updated.