Hillary Clinton Supporters React to Super Tuesday 2016 Results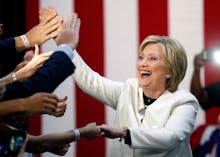 Gerald Herbert/AP
Democratic frontrunner and former Secretary of State Hillary Clinton had a stellar Super Tuesday, and her supporters were over the moon about the evening's stacked caucus results. Clinton cleaned house on Tuesday, winning in Texas, Arkansas, Tennessee, Alabama, Georgia, Virginia and, narrowly, in Massachusetts. 
Of the target five states he hoped to win, Democratic nominee runner-up and Vermont Sen. Bernie Sanders won four states — losing to Clinton in Massachusetts but taking Minnesota, Colorado, Oklahoma and, perhaps unsurprisingly, Vermont. Sanders' win in Oklahoma was a bit of a surprise to some, but many saw Tuesday's results as a major setback for the democratic candidate.
Read more: Super Tuesday 2016 Results: Here's Who Won in Every State
On the other side of the aisle, GOP frontrunner and business tycoon Donald Trump and his supporters also had a great time on Tuesday. Trump won Alabama, Arkansas, Georgia, Massachusetts, Tennessee, Vermont and Virginia. Texas Sen. Ted Cruz took Alaska, Oklahoma and Texas, while Florida Sen. Marco Rubio won in Minnesota.
Here's how Hillary supporters reacted to Tuesday's results on Twitter:
Super Tuesday is historically heralded as a bellwether for who will ultimately win the nomination. And early results suggest Clinton's enjoying her lead on Sanders. But the race for the White House is a long slog, and anything could happen before Election Day. Tuesday's results suggest, however, that — for now — the Democratic presidential nomination is Clinton's to lose.