Adele Just Paid a Visit to a Terminally Ill Fan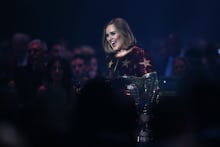 Before her concert on Tuesday night in Belfast, Northern Ireland's capital city, Adele took time to pay a visit to her dying 12-year-old fan Rebecca Gibney, who is blind and has cerebral palsy and epilepsy. 
After learning the pop icon would be visiting Belfast as part of her tour, the young girl's mother, Tracy, started a Facebook page in an effort to mobilize a social media campaign to get Adele to visit Rebecca.
Read more: Adele's Epic Car Karaoke With James Corden Earns High Praise From Nicki Minaj
"The only thing that she loves and that she can do is that she lies and listens to music," Tracy Gibney said about her daughter during a Belfast Live interview in November 2015.
"I put Adele on when Rebecca gets up in the morning. She smiles — she can't make noises or anything, but she smiles and her wee eyes light up."
And while Gibney has already outlived her doctors' prognosis, who, in December 2014, estimated she had six months to live, time is still of the essence.
So, on Tuesday afternoon, Tracy Gibney received a call from the singer's manager saying they'd be at the Gibney's home within an hour, according to the BBC.
"It's amazing. I'll never forget it. And I do know that when Rebecca passes away she did get her dream come true," she told the BBC.
"It's made me feel like I'm the best mummy in the world which I never felt. Adele told me I was the best mummy in the world, too."
Adele has been on a streak of fan love lately. The same day as Rebecca's visit, Adele also hooked up a crestfallen fan, who tweeted at her saying he hadn't managed score a ticket to her concert. 
And, just like a modern Willy Wonka golden ticket, she secretly signed five programs to her Belfast show.
We love you more, Adele.