Banning Muslims From Entering the U.S. Was a Top Priority Among GOP Super Tuesday Voters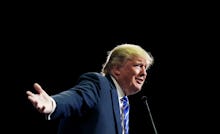 Six out of every 10 people who voted Republican on Super Tuesday support banning Muslims from entering the U.S., according to ABC News exit poll results.
The percentage of supporters varied from place to place, but Islamophobic sentiment was especially strong in five Southern states: Alabama, Arkansas, Tennessee, Texas and Virginia.
Read more: Black Woman Thrown Out of Donald Trump's Super Tuesday Rally in Kentucky
Donald Trump and Sen. Ted Cruz (R-Tex.) split these voters more or less down the middle in Texas and Arkansas. But in the other three states, those who support the ban overwhelmingly cast their ballots in favor of Trump. 
This is not a drill, America.
For posterity, here are the percentages of GOP voters in each of these five states who actually, literally supported stopping Muslim human beings from entering the United States of America on Tuesday:
Alabama - 78%
Arkansas - 78%
Tennessee - 72%
Texas - 65%
Virginia - 64%
ABC News reported that seven out of 10 Georgia Republican voters also support the ban, but did not provide an exact percentage.
The idea for a ban started in December, when Donald Trump announced through a press release that he supported "a total and complete shutdown of Muslims entering the United States until our country's representatives can figure out what is going on," according to CNN.
This was six days after a pair of terrorists — Syed Rizwan Farook and Tashfeen Malik — shot and killed 14 people at the Inland Regional Center in San Bernardino, California.
Both shooters were Muslim, but since Sept. 11, 2001, the majority of people killed in terrorist attacks in the U.S. died at the hands of white supremacists or far-right wing extremists, not jihadists. However, this did not stop GOP politicians from vilifying the entire Muslim religion — which accounts for more than 1.6 billion people worldwide.
Since November, 26 state governors in the U.S. have said they oppose allowing refugees fleeing civil war in majority-Muslim Syria to settle in their states. The Islamophobic rhetoric spewed by Donald Trump in particular has fueled a rise in anti-Muslim violence across the country in recent months — including brutal hate crimes, acts of vandalism and Muslims being forcibly removed from the businessman's own rallies.
Trump was also recently endorsed by David Duke, a former Grand Wizard of the Ku Klux Klan. Perhaps no better referendum exists on America's political climate today than that Trump is now poised to become the Republican nominee for president of the United States.
Get the five stories that will challenge you to rethink the world by signing up for MicCheck Daily.