The Military Wants You to Hack the Pentagon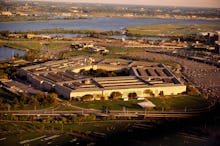 The Pentagon is inviting hackers to take a crack at the Department of Defense's cybersecurity systems. 
The first-of-its-kind program, called "Hack the Pentagon," will mimic bug bounty contests that help major companies keep their software in check, according to Reuters. Programs like these allow outsiders to test the mettle of software and cybersecurity implementations and point out vulnerabilities for cash. 
It's not certain whether the Pentagon will be offering monetary rewards to people who find gaps in its security, but officials say it's exploring the option. The initiative will be open to U.S. citizens, and all applicants must submit to a background check. Even then, approved hackers won't have access to some of the Pentagon's most sensitive databases and networks. Rather, participants will be attacking a publicly accessible system. The defense agency is hoping to test its security systems without necessarily damaging its overall network. 
In a statement, Reuters reported, Defense Secretary Ash Carter said of the new strategy, "I am confident that this innovative initiative will strengthen our digital defenses and ultimately enhance our national security."