These Sustainable Celebrity Diets Won't Leave You Starving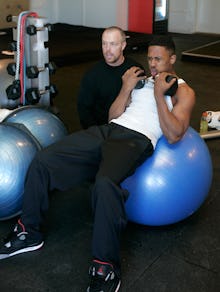 Chris Weeks/Getty Images
As public figures, celebrities hold influence — especially when it comes to the latest trend in diets and "bouncing back" from pregnancy. Unfortunately, most of these diets (like eating only jars of baby food or drinking clay) sound like some kind of unpleasant challenge you've bet on with friends rather than a way to jumpstart a healthier lifestyle. 
Having a healthy diet can also lead you right into a long life with a lowered risk of diseases. Every now and then, a celebrity will come along endorsing a sustainable and reasonable diet, which are the scientifically proven keys to sticking with it for the long haul, the Washington Post reported. 
Read more: Is Kanye West Vegan? Here Are the Heavyweight Celebrities Who've Foregone Meat
Personal trainer Gunnar Peterson, whose clients have included Kim Kardashian West and Jennifer Lopez, said that "people trying to right a lifetime of wrongs two weeks before a deadline" is the biggest diet mistake he sees his clients make. Another mistake he noticed clients make was "overhauling their lives instead of improving it piece by piece in a way that will work for the longterm."
Peterson recommended starting every day off with a healthy breakfast so that you "send your body a sign that you're not starving so it starts burning fat," according to CNN. He suggested oatmeal topped with fruit and scrambled egg whites. Eating breakfast is associated with better longterm weight loss, according to Bonnie Taub-Dix, a spokeswoman for the American Dietetic Association, according to CNN. 
Actress Kate Hudson avoids juicing, instead choosing an elimination diet. Cutting out red meat and sugar, she turns to "rice, beans, lentils, beautiful salads, low-mercury fish, some nuts, blueberries and raspberries, and all sorts of vegetable dishes," she told Australian Women's Health. 
Cameron Diaz's trainer Teddy Bass had her cut out white foods, such as white bread and pasta, and replace her carb intake with fruit and vegetables, according to CNN. Singer Shakira follows a similar regimen, avoiding simple carbs, she said, according to Women's Health. 
Celebs like Penélope Cruz and Rachael Ray have followed the Mediterranean diet, which focuses on heart-healthy and plant-based foods like olive oil, whole grains and omega-3-filled salmon rather than butter or red meat, according to the Examiner. Research has found the Mediterranean diet is not only sustainable in the long-run, but also reduces the chance of stroke, according to the New York Times. And as a bonus, you get to drink red wine.