4 Healthiest Fast Food Breakfast Hacks for the Busy Commuter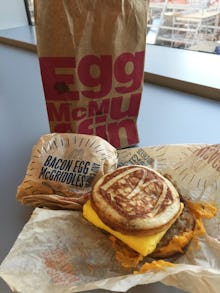 Candice Choi/AP
Whether it's preparing breakfast the night prior or quickly whipping something up before you step out the door, there are many ways to start your mornings off with a healthy breakfast. But sometimes convenience, lateness or just plain laziness ruins your breakfast plans. On those days, you're likely to grab your breakfast on the go at a fast food restaurant or at a cafe where you get your coffee, but those options aren't always the healthiest. Here are four hacks you can keep in mind to make sure you start your day off right.
Read more: McDonald's All-Day Breakfast Is Going Nationwide in October
1. Opt for complex carbs. 
Most people grab a donut or muffin because of its sugary deliciousness, even if they know it isn't the healthiest breakfast option. However, a regular bagel isn't any better; Food Network's Healthy Eats notes that while a medium-sized 300 calorie bagel is fine, most cafes and shops offer bagels that are double the size, meaning double the calories. Either way, one bagel is the equivalent of four to five slices of white bread.
Instead, choose the complex carbs; restaurants like Au Bon Pain and McDonald's, as well as Starbucks, all offer low-calorie oatmeal options. If you must have a bagel, try to get whole wheat or whole grain. Also, maybe go easy on the schmears, which can easily pack on calories.
2. Have a smoothie.
Perhaps the easiest way to get a bunch of vitamin-filled fruits in you — at least one that involves less chewing — is a smoothie. McDonald's and Jamba Juice offer low-calorie options as long as you choose the fruit and juice-based beverages, and steer clear of the dairy-based shakes that normally have more calories and saturated fats.
3. Fruit is good, period.
If you don't harbor any issues about needing to chew your breakfast, fruit is fool-proof. Many fast food restaurants offer fruit salads and fruit cups. Furthermore, restaurants like Au Bon Pain and Starbucks normally sell fresh, seasonal fruit a la carte.
4. Turkey bacon — sorry!
As delicious as regular pork bacon can be, it is obviously no health food. If you insist on having bacon in your breakfast sandwich, opt for the kind with fewer calories. At Starbucks, for example, get the 230-calorie reduced-fat turkey bacon and egg-white breakfast sandwich instead of the 500-calorie one with sausage and cheddar.