Which HBO TV Shows Have Most Influenced Its Present-Day Programming? Quite a Few, Actually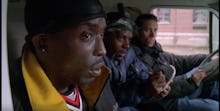 YouTube
It's a well-known slogan that has been synonymous with its long-held success: "It's not TV; it's HBO." The network's long moved past just streaming movies and presenting stand-up specials. Now, it's producing quality programming, both television comedies and dramas, at a success rate that none of its peers can match. HBO is TV — it's just really good TV.
In fact, based on critical metrics, it's the highest-rated of any content provider by a large margin, according to statistics compiled by Cut Cable Today's Andrew Dodson. At first glance, it appears that HBO continues to swing for the fences and hit proverbial home runs with all their shows. To some degree, it's true — the concepts are imaginative and compelling. However, the shows that spawned HBO's initial success in the late '90s and early 2000s draws similarities to some of its current trademark series, and without their accolades, the network's content could be vastly different today.
Read more: Does the 'Game of Thrones' Show Follow the Books?
Sex and the City to Girls: Aside from creating what's now essentially a pop culture version of a Myers-Briggs test, Sex and the City follows four women through their respective love lives and career aspirations in the ever-bustling New York City. Sound familiar? Probably, as the presently airing HBO series Girls follows a very similar model in the same metropolitan backdrop.
But Girls is certainly not a complete Sex and the City copycat, free of any original thought. Rather, Girls is more representative of young women growing up in the 2010s, while its counterpart had an earlier focus. 
"[Girls is] not as fantastical," Sex and the City actress Kim Cattrall told the Huffington Post. "But we live in different times. [The recession of] 2008 was a real big game-changer for everybody, and I look at that show, and it represents what young women today are dealing with."
As such, Sex and the City established itself as a widely successful pop culture icon of its time — which included film adaptations and NYC-themed bus tours — prior to Girls creator Lena Dunham's familiar success on the network.  
The Wire to True Detective: There are a plethora of true crime TV series, but few match up to the accolades of HBO's The Wire and True Detective (season one, to be specific). Both create darkly formed representations of America — Baltimore in The Wire and Louisiana in True Detective's first season — that are etched in a sense of gritty realism. 
Similarly, both shows change their narratives for the corresponding seasons. The Wire's is more linear, as all of its five seasons follow the same characters in Baltimore's police department. Meanwhile, True Detective is an anthology series that has changed its actors and locations, with season one in Louisiana starring Woody Harrelson and Matthew McConaughey and season two in a fictional California town with Colin Farrell, Vince Vaughn and Rachel McAdams at the helm.
Season two of the latter series had mixed reviews, though it certainly paled in comparison to a first season that was favorably compared to HBO's true crime darling. Showrunner Nic Pizzolatto likely will have a chance to redeem himself with a third season — one that'll hopefully usher in another successful, complex storyline that made the first season such a huge hit.
"[True Detective season one is] a bleak, hardscrabble world leavened only by the odd moment of dark humor," Sarah Hughes wrote for the Independent. "Most importantly, like David Simon with The Wire, Pizzolatto has created a world that is instantly, utterly his." 
Entourage to Ballers: This might be the most direct comparison of all, as Ballers feels like it has Entourage's DNA with endlessly similar characteristics. You have a group of guys, rich beyond comprehension, having a good time and partying with as many women as they can handle. If that's your thing and you miss the bromantic, champagne popping antics of the Entourage gang, Ballers is, well, a baller comparison. 
While Entourage focused on the entertainment industry in Hollywood, Ballers has a similarly macho narrative: a former NFL player who becomes a financial advisor for current players.
"Like Entourage, the show is done in a comedic style playing on the sport's absurdities," Jason Guerrasio wrote for Business Insider. "In one scene during the first episode, real NFL star running-back Steven Jackson boasts to have recently bought an elephant." 
The bro culture is more than alive at HBO — it continues to thrive. 
The Larry Sanders Show to Curb Your Enthusiasm: The Larry Sanders Show is synonymous with a lot of successful sitcoms with distinguishable attributes — the exclusion of a laugh track; morbid, deadpan humor; and a behind-the-scenes, self-reflexive look at someone in the industry. It's not just the notable comparisons to Curb Your Enthusiasm, you can see it everywhere. When you look at shows that are, essentially, a show-about-a-show or a celebrity — or both — you think of 30 Rock, My Life on the D-List and Studio 60 on the Sunset Strip, among others. 
As the originator, though, The Larry Sanders Show deserves heaps of praise. It's one of HBO's earliest critically successful comedy series. Moreover, it may not seem like a unique quality now, but its laugh-track omission was an important step in the genre. 
"Sitcoms — even critically beloved Seinfeld — were slowed down by the need to pause for laughter, and most took place in the familiar timeless sitcom universe, bounded by the traditional three cameras," according to Splitsider. "Larry Sanders wasn't the first single-camera sitcom, but it was one of the first to do away with audible laughs, which gave them more time to cram in jokes and plots." 
The Sopranos to Game of Thrones: Game of Thrones is HBO's most popular series of all-time, surpassing The Sopranos for that honor at the end of season four. Yet it's not just the HBO series' popularity that draws them together. In many ways, the conflicted and complex storylines in Westeros mirror that of the mafia-filled world of The Sopranos.
"[Game of Thrones] adheres to the winning HBO triangulation of nudity, violence and dynastic infighting: It's The Sopranos with swords, Deadwood with dragons," Elizabeth Renzetti wrote for the Globe and Mail ahead of the show's second season.
Of course, the similarities between a crime drama and a fantasy series aren't as evident — and essentially stop there. But the success of a violent series like The Sopranos allowed HBO to take a risk on a TV adaptation to George R.R. Martin's A Song of Ice and Fire novels, with a big budget, because the themes have been a huge hit before. Obviously, with the sixth season coming in April, it's paid off in a big way.