Iggy Azalea Wants You to Know She Doesn't Hate Black People, She Just Hates Azealia Banks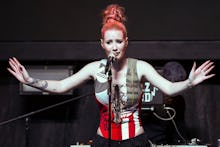 Iggy Azalea doesn't hate black people, just one black person: Azealia Banks.
In a new interview with Elle Canada, the white Australian rapper looked back on her fraught 2015, when almost the entirety of hip-hop turned against her for appropriating black styles of music while ignoring black lives. She said she wished she could "Men in Black memory-erase" the whole year. But since she can't (yet), she attempted to explain how the world misunderstood her feelings toward today's social justice movements so badly. 
It's all Azealia Banks' fault.
Read more: Hip-Hop's Huge Problem With Iggy Azalea Just Blew Up — And She Completely Deserves It
"I think the Azealia Banks thing is what really started it all," Azalea told Elle Canada, referring to her and Banks' drawn out Twitter spat in December 2014. Banks called out Iggy and nicknamed her "Igloo Australia" for lifting from black culture without caring about black issues. Azalea shot back with a rant so vitriolic it made it seem she didn't think Banks' objections had any merit.
"We don't like each other on a personal level, and that has gone on for many years — before the Black Lives Matter incident happened," Azalea said. "So when I dismissed her, people started to think that I dismissed the whole movement, but I wasn't trying to dismiss Black Lives Matter — I was trying to dismiss her because it's our personal shit."
Azalea made sure she was clear she does care about Black Lives Matter; she just has no interest in speaking to it in her music. She'll leave that to Kendrick Lamar and J. Cole. "Even though I still hate Azealia Banks, I wish I had said it in a way that didn't make people think I was oblivious to the movement," she said. 
Banks isn't happy about any of it. Wednesday, after the Elle Canada story dropped, Banks tweeted promises to drop something that would have Azalea "gagging all year."
Banks responded with a track, "Used To Being Alone." It's not exactly an "Ether" — or even a "Back to Back"-level diss track, but the song samples Iggy Azalea's "My World." The fact blesses the song's chorus line — "How does it feel?" — with new meaning. 
Azalea is going to steal black music? Banks is going to steal it back.
Source: Soundcloud
Iggy has yet to respond to Banks' digs, but she did announce she will have music on the way March 9. We'll see if both rappers have it in them to take their hatred into bars. With all the feelings flying around, it would make probably make for some verses.
Get the five stories that will challenge you to rethink the world by signing up for MicCheck Daily.