Some Bernie Sanders Fans Are Blaming Elizabeth Warren for His Losses Yesterday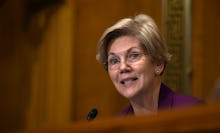 As news emerged that Bernie Sanders' disappointing performance on Super Tuesday had extended to a loss in progressive Massachusetts, some of his most vocal supporters began to spread a strange explanation for his defeat — namely, that progressive hero Sen. Elizabeth Warren was to blame for declining to endorse him over Hillary Clinton.
"Had Warren endorsed Sanders when it mattered — any time through yesterday — she might have provided the boost of momentum and urgency that propelled Sanders into Super Tuesday with a necessary boost after the deflating losses in South Carolina and Nevada," Salon's Michael Garofolo wrote.
"If she sincerely cared about these issues, she should've endorsed her political twin," wrote the Boston Herald's Adriana Cohen. "But that didn't happen. Warren was AWOL. Just like her integrity. Hashtag #Coward."
On Warren's Facebook page, similar comments blanketed many of the senator's recent posts, although just as many of her supporters arrived to defend her:
Sanders ultimately lost Massachusetts by about 17,000 votes. While a Warren endorsement might have indeed tipped the balance in his favor, it probably would not have made a major difference to his ultimate showing on Super Tuesday — those 17,000 voters translated to just two delegates.
Across the 11 states voting on Tuesday, Clinton carried seven to Sanders' four, winning 486 delegates to Sanders' 321. As Mic's Luke Brinker noted, the real problem wasn't that Sanders lost Massachusetts. It was that he got demolished in the Southern states and has done terribly among minority voters there.
"Three days after Clinton walloped Sanders by more than 70 points among black voters in South Carolina, Sanders sustained another round of crushing defeats in the South on Tuesday. In his best Southern state, Virginia, Sanders garnered just 35% support to Clinton's 64%, losing African-American voters there 82% to 18%," Brinker wrote. "Farther South, Sanders performed even worse, losing to Clinton by margins ranging from 34 points in Texas and Tennessee to 51 points in Alabama, according to the latest tallies."
Some Sanders fans might feel personally betrayed by Warren's decision to sit on the sidelines. But it's doubtful a Warren endorsement would have made much of a difference, meaning the grudge is largely just that — personal.