Everything You Need to Know If You Plan to Boycott Sony to #FreeKesha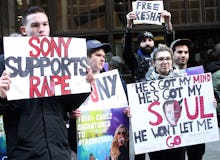 When New York State Supreme Court Justice Shirley Kornreich denied Kesha's injunction to free from her contract with her alleged abuser Friday Feb. 19, producer Lukasz "Dr. Luke" Gottwald, she explained her decision as a matter of economics. 
"You're asking the court to decimate a contract that was heavily negotiated and typical for the industry," Kornreich said to Kesha's lawyer Mark Geragos, according to the Hollywood Reporter. "My instinct is to do the commercially reasonable thing."
Some critics took the judge's just-the-facts ruling as an "appalling" response, considering the gut-wrenching details of Kesha' GHB-fueled rape and years of alleged emotional and physical abuse. But as of now, Kesha just doesn't have enough evidence to bury Gottwald without a shadow of a doubt. As scores of observers have noted, our legal system is not set up to support rape victims. 
Read more: Why Kesha Can't Escape Her Contract With Producer Dr. Luke Amid Rape Allegations
It may be that Kesha's freedom will have to come from other angles, and supporters are already stepping up to take initiative. Several petitions demanding that Sony #FreeKesha or "drop this rapist," have circulated for the past few weeks. One of the biggest has demanded a full boycott of Sony, and it may be the most effective. 
If cold, hard economics are keeping Kesha from experiencing true creative freedom, economics may be the best way to break her out.
The boycott
Following Kesha's court ruling, Alexis Rapoza created a petition on Change.org calling for a Sony boycott. "By signing this petition to boycott Sony, you stand against their manipulative and money hungry acts and refuse to by music/products from a band that abuses their artists like this," she wrote. It almost immediately found its supporters. 
According to Michael Jones, deputy managing director at Change.org for North America, the petition earned "230,000 signatures in 48 hours and continues to grow," as he wrote in a piece for Mic. "That's a unicorn in the land of social change, and a tell-tale sign that there is a really engaged fan community not only paying attention, but invested in taking action." It's slowed some as Kesha's name has faded from the news, but other initiatives have sprung up in its place.
What albums would fans have to snub?
Unfortunately, just about all of them. Sony became the largest music publisher in the world when it acquired EMI Music Publishing in 2012.
Not all of the above artists have albums on the way, but a few of the biggest do. Beyoncé is signed to Sony's Columbia label, and rumors have been swirling she has an album coming in April. Britney Spears' ninth album, which she recently described as "the best thing I've done in a long time," will come out via Sony's RCA. Zayn Malik's album Mind of Mine, which currently has a release date set for March 25, will also be coming through RCA.
The full roster of artists for Sony's three main labels can be found through the label's site: RCA, Columbia and Epic. Dr. Luke's Kemosabe Records is distributed through RCA.
How much impact do these initiatives have on Kesha's contract?
The specific details of Kesha's contract have been not included with the court documents available for public perusal, but Sony has offered a statement detailing the specifics of her contract. It turns out Dr. Luke is holding the cards in this end of the relationship as well. Sony's attorney, Scott A. Edelman, told the New York Times:
"Sony has made it possible for Kesha to record without any connection, involvement, or interaction with Luke whatsoever, but Sony is not in a position to terminate the contractual relationship between Luke and Kesha. Sony is doing everything it can to support the artist in these circumstances but is legally unable to terminate the contract to which it is not a party."
While Kesha is technically free to record with other producers in the Sony family, all of her music will still get put out with her alleged abuser's name on it, and its earnings will go into his bank account. It seems that Dr. Luke is still determined to reap some of the rewards the albums remaining on Kesha's deal.
What Sony could do is drop Dr. Luke altogether. Lady Gaga urged the company to do so in a recent Instagram post, writing "#PeopleOverProfit you can #FreeKesha if you #FreeDrLuke Do what is RIGHT not what is better for business."
Dr. Luke's contract with Sony reportedly goes up at the end of this year, so the entertainment company will have a big decision to make. Do they re-sign him or not? Dropping a producer with 16 No. 1 singles under his belt would set a huge historic precedent. It also wouldn't necessarily free Kesha, but it would put a world-crushing amount of pressure on Dr. Luke to part ways with the singer.
Dropping Dr. Luke would also do far more than help one solitary singer. If the outpouring of support for Kesha by artists who have worked with Dr. Luke is any indication of his character, cutting ties with him may benefit far more artists than just pop's last great rock star.