This Groundbreaking High Fat Diet Could Combat Diabetes and Promote Weight Loss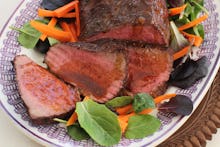 Matthew Mead/AP
One diet that has existed for more than 80 years is making a comeback as a way to ease symptoms of diabetes. Diabetes affects the body's use of glucose, a type of sugar that is found in the bloodstream and a fuel source for cells in the body. According to the American Diabetes Association, Type 1 diabetes affects younger individuals, while type 2 diabetes occurs when an individual can't produce enough insulin to keep up with the blood's glucose levels. 
The ketogenic diet may slow the effects of the debilitating disease. Originally used to treat children with epilepsy, how can a diet that focuses on high fats possibly be a solution to diabetes?
Read more: How to Eat Healthy and Avoid a Ramen-Only Diet When You're a Broke College Student
The keto diet is high in fat but low in carbohydrates, according to Healthline. The diet is all about changing the way your body stores and converts energy, burning fat instead of carbs. Carbohydrates are generally converted into glucose, but the keto diet forces the body to use fat as energy for the body instead. Burning fat instead of carbs helps ease the symptoms of diabetes and may decrease blood glucose levels. 
Dr. Jay Wortman, a Canadian physician, conducted a study of the keto diet in an aboriginal community in the Namgis First Nation in Canada. 
"We designed a study, trying to do something different, because clearly what we were currently doing to manage these problems wasn't working,"  Wortman said during a dieting summit in Cape Town, South Africa, according to BizNews. "We approached a small aboriginal community and suggested they try on a low-carb, ketogenic diet based on their traditional diet. People lost weight and improved their metabolic syndrome and type 2 diabetes."
Of course, this doesn't seem to mean go out and gorge yourself with every type of fat. According to Healthline, "heart-healthy fats are the key to sustaining overall health," so dieters should try healthy fats like eggs, fish, cottage cheese, avocados, and almond butter. 
Not all researchers believe that low carb, high fat diets are healthy options. But Dr. Eric Westman, an associate professor of medicine at Duke University Health System, has been using the diet for several years. 
"While not all experts agree that a LCHF diet is a healthy way of eating (like I do), most experts agree that the LCHF diet is a therapy for many of the chronic medical conditions that we see today: type 2 diabetes, obesity, high blood pressure, heartburn, polycystic ovarian syndrome and fatty liver disease, to name a few," Westman told Whole Foods Magazine. "I have been using the LCHF diet as a first-line treatment for obesity and type 2 diabetes for eight years."
The keto diet may also benefit the wallet as well. "I lowered my grocery bill 20% to about $75 a week," Joshua Schall, a business consultant, told US News & World Report after trying the keto diet. "The main difference was being able to buy cheaper cuts of meat from my traditional lean cuts."