Ted Cruz Won Alaska — Even Though Sarah Palin Endorsed Donald Trump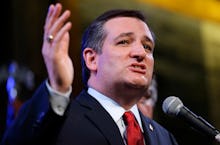 David J. Phillip/AP
Texas Sen. Ted Cruz won the Alaska caucuses on Tuesday, despite the fact that former Alaska Gov. Sarah Palin, arguably the most famous living Alaskan, endorsed real estate mogul Donald Trump for president back in January.
Read: John Oliver Finally Took Down Donald Trump, Uncovered the Trumps' Dirty Little Secret
Cruz ended the night with a total of 36.4% in Alaska, having won 7,973 out of a total 21,930 votes cast in the state's Republican caucuses, reported the New York Times. Current Republican frontrunner Donald Trump was close behind Cruz, with 33.5%.
In January, Palin endorsed Trump in a speech in Iowa during which she voiced her faith in Trump as a leader, telling the crowd "Isn't he known for being able to command ... Are you ready for a commander in chief who will let our warriors do their job and kick ISIS' ass?"
Despite Palin's Trump endorsement, Cruz still took home the win in Alaska on Tuesday night. But despite his wins, Cruz couldn't slow down the momentum of the "Trump train." Trump won seven states on Tuesday and held onto his place at the front of the pack in the race for the Republican nomination.