This Teacher Was Forced to Resign After Her Private Sext Was Leaked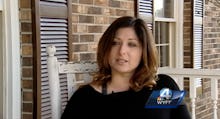 If you've ever taken a super-steamy nekkid photo of yourself and shared it with the person you were boinking (and let's be real, the vast majority of you probably have), then be careful! It's probably best for you to bury your phone in your backyard somewhere. Otherwise, someone might steal it and put it on social media, and you could lose your job.
That's the lesson to be learned from the story of Leigh Anne Arthur, a teacher at Union County High School in South Carolina. Arthur was forced to resign after one of her students stole her phone and leaked a private nude photo she sent to her husband — and then the school blamed her for having the photo on her phone in the first place. 
Great work, Union County! Go Yellowjackets!
Arthur, who taught mechanical engineering, electrical engineering and computer programming at Union County High School, was in the halls during a class changeover when one of her students swiped her cellphone, which was on her desk, according to local news affiliate WYFF4. The student then scrolled through and found a partially nude photo of Arthur, which she said she sent to her husband on Valentine's Day. 
Arthur said the student had to make quite an effort to find the photo on her phone. "He had to hit my apps button to open up all my apps, and then open my gallery," she told WYFF4. The student then took a photo of Arthur's nude photo and posted it on social media.
One might think that stealing a teacher's phone, swiping through her personal photos and posting an embarrassing sext on social media might be grounds for, say, the school district to discipline the student. 
Yet, shockingly, the Union County School District's interim superintendent, David Eubanks, appears to have blamed the incident on Arthur, arguing that it was her fault for leaving her phone unlocked on her desk. He said he didn't know whether the student who stole the phone in the first place would be punished at all. 
"I think we have a right to privacy, but when we take inappropriate information or pictures, we had best make sure it remains private," Eubanks told the State.
Arthur has since issued her resignation. In response to Mic's request for comment, a spokesperson from the Union County School District sent the following statement on behalf of Eubanks:
One of the most critical responsibilities that a classroom teacher has is the supervision of students.  In this particular case there was a breakdown in the classroom in that most critical area.  Evidence and statements indicate that the teacher was not where she should have been at the time the incident occurred.   As a result, a student accessed inappropriate material on her phone, sent it to others, and as a result also may also be severely punished by law enforcement as well as the school district.
The statement also denied that the student who stole Arthur's phone would not be penalized, writing that "the extent of the punishment of the student will be determined by the findings of law enforcement."
Understandably, Union County students are outraged by Arthur's resignation, arguing that the school district faulting Arthur is tantamount to victim-blaming. 
"Leigh Anne Arthur is the victim of a blatant attack of her privacy," reads a petition, which has since garnered more than 1000 signatures. "Personal photographs were illegally obtained by a student... the circumstances in which Mrs. Arthur was let go is unacceptable, and must be corrected." 
While the support for Arthur on social media is emboldening, it doesn't necessarily get her her job back — nor does it change the fact that this is far from the first time a woman who has sent a private sext, intended to be viewed by only one person, has been blamed for egregious privacy violation. 
In 2014, for instance, 4chan hackers leaked hundreds of nude photos of celebrities like Jennifer Lawrence and Kate Upton, an incident widely known as the Fappening. Although the photos were private, internet commenters immediately rushed to blame Lawrence and Upton for having taken them in the first place, arguing that had they not wanted nude photos leaked, they shouldn't have taken them in the first place. 
Similar arguments have also been applied to victims of so-called revenge porn, in which someone's nude or sexually explicit photos are leaked without their consent. 
The argument that if you don't want your nude photos to be public, you shouldn't take them at all only goes so far. According to a 2015 Drexel University survey, approximately 88% of United States adults have sent or received a sexually explicit message at some point in their lives. Given how incredibly widespread sexting is (not to mention what an outrageous violation of privacy it is to steal an authority figure's phone and swipe through her photos), the victim-blaming mentality at play in Arthur's case is not only gross, but also terrifying. 
If a woman could lose her job for having private nude photos on her phone, then what implications does that have for the rest of us?
Wed., Mar. 2, 2016: This story has been updated. 
h/t WYFF4