This Woman Proposed to Her Boyfriend With an Elaborate Mystery Scavenger Hunt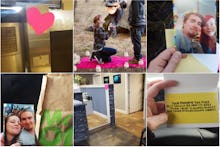 This past Monday was a special day: February 29th, a Leap Year day!
One of the many cultural traditions/superstitions surrounding this once-every-four-years occasion is the custom of women being able to pull a li'l switcheroo and propose to their boyfriends. Which is exactly what one Reddit user's girlfriend did via an elaborate mystery scavenger hunt involving a nonstop barrage of clues and pictures and memories from the couple's relationship.
"My girlfriend sent me on an adventure yesterday," Redditor Danth3real wrote on the site Tuesday. He also posted nearly 30 pictures depicting his transformative journey from boring ol' boyfriend to fabulous new fiancé. "Ended up engaged!"
There were many stops along the way, each labeled with rhyming clues that led him to the next location.
(Side note: How does that McD's Quarter Pounder pictured below look so bad and yet so good at the same time?)
There were stops at all of the standard locations of their lives, from the grocery store to the bank to the pair's fave pizzeria.
(Speaking of pizzerias: This is one spicy meat-a-ball of a proposal!)
Eventually, our protagonist was led to the high school in which the couple first fell in love while smokin' up between classes.
(Smoking cigarettes didn't give these smitten kittens health problems — it gave them everlasting love!)
And then he went to the woods out back, WHERE THIS HAPPENED:
Mic has reached out to Danth3real to find out a) his real name and b) literally everything ever about his relationship because clearly it is perfect and we need to know the secret to keeping romance so fresh and vibrant that a Leap Year proposal is eventually in order; we will update if we hear back. But even without more context, these pictures are worth a thousand words on their own. Or at least six: Female-driven proposals are good and great.
Now if only we could start encouraging more women to feel emboldened to do shit like this, oh, IDK, more than once every four years.