Meet the Woman Behind Cocoa Swatches, the App Revolutionizing How Black Women Buy Makeup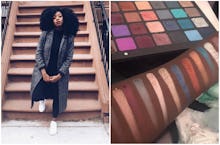 In February, MAC Cosmetics posted a close-up Instagram picture of a model's lips wearing the shade "Royal Romance" — and people were baffled. They were angry. "Wtf r these lips?" commenters wrote. It would appear they had never before seen a black woman's lips being used to model lipstick. 
Read more: This App Uses Selfies to Help Women of All Skin Colors Get the Perfect Makeup
Fashion and beauty blogger Ofunne Amaka is on a mission to change that. After spending hundreds of dollars on products that ended up not working for her skin tone, Amaka, 26, decided to start an Instagram account devoted to showing how makeup looks on dark skin. 
The response has been resounding. Called @CocoaSwatches, the account has raked in more than 20,000 followers since it was launched in March 2015.
"I knew the problem I was having was a pretty universal one," Amaka told Mic. "I just didn't know how quickly people would start following and be interested." 
On Monday, she took her brand one step further by launching her own Cocoa Swatches app that will include original content from Amaka's own makeup collection as well as picks from notable black beauty bloggers. Much like her Instagram, the app is curated especially for women of color, providing them with the resources they need to choose the makeup they want. 
"On other beauty blogs, I would often try to find pictures of a girl that look like me but after a few times it just went horribly wrong," Amaka said. "And I thought I really wish I didn't have to do this guesstimate thing where you buy a shade of lipstick and have no real idea how it's going to look for you.
"I've posted makeup on totally different skin tones before and people have acted like I was lying, that a shade could not look that different on a different person." To ensure that her account addresses that, Amaka models some of the makeup swatches herself and brings in friends with varying skin tones to model as well.
There are several reasons why showing black women interacting with beauty matters. For one, it helps black women know what color work best on their skin tones. But more importantly: It helps debunk the myth that black women simply won't invest in quality makeup. 
"It is very difficult to get them to take notice of the influence of women of color and their buying power," Dana Hill, founder and CEO of Cocotique, told Mic previously. "Without this understanding, they don't see the importance of providing samples in beauty boxes targeted to women of color. However, women of color spend $7.5 billion annually on... cosmetic products, and 80% more on cosmetics and beauty products than the general market."
Clearly, brands ignoring women of color are missing out on something substantial. 
According to Amaka, it's important to have this conversation about women of color in the beauty industry because it puts pressure on the people who have power to hire models of color. 
"Beauty companies "don't feel compelled to address it until people start addressing it, and people are now addressing it," Amaka said. 
Indeed they are, and we can thank social media for that. In February, model Leomie Anderson's tweets went viral — they addressed the unequal treatment models of color face when they're cast in a fashion show or photo shoot. The following week, women in England began denouncing Maybelline's latest foundation in the U.K., saying the only shades offered were way too light, and excluded women of color. More and more women are speaking out, and they're finding new platforms to do so.
"I honestly want Cocoa Swatches to be a safe space," Amaka said. "People feel like they can voice some of the grievances they've had and people don't say that they're crazy. We've all probably experienced similar things, and feel like we're being ignored. So I think it's vital to create a community around that."