Will Ben Carson Run for Senate After His Dismal Super Tuesday 2016 Performance?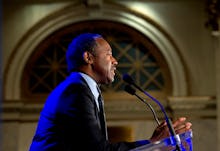 Jose Luis Magana/AP
It's unclear what's next for GOP presidential candidate and retired neurosurgeon Ben Carson after he failed to win a single state on Super Tuesday. Many are speculating that Carson, once thought to only have an upward trajectory in the race to the White House, will be the next casualty of frontrunner Donald Trump's seemingly unstoppable campaign for the Republican nomination. 
Carson's abysmal showing Tuesday has insiders talking, with reports surfacing early Wednesday morning that GOP operatives are going to try convincing him to run for a U.S. Senate seat from Florida and drop out of the presidential race. 
Read more: Ben Carson Says President Obama Was "Raised White," Tells America What Being Black Is
The disappearing candidate is standing strong, however, according to a statement provided to CNN Tuesday night: 
Millions of Americans plead with me to continue, They want to have a choice and a representative voice to ensure people of faith are not marginalized and that integrity is restored to leadership, with a focus on common sense solutions to the myriad problems we face as a nation. They know I am a citizen candidate, not a politician, who won't do what is expedient, but what is right.
It remains unclear whether Carson will take the party's call for him to drop out of the race. CNN reported Wednesday Carson had a look at his 10% polling numbers and suggested God had answered his prayers. 
"As long we continue to receive their support, and the Lord keeps opening doors, I will remain in this presidential race," Carson continued in his statement. 
h/t CNN
Correction: March 2, 2016