Texas Republican Who Thinks Obama Was Gay Prostitute Won Big on Super Tuesday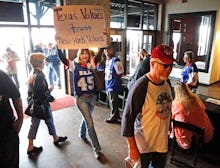 Meet Texas District 9's Mary Lou Bruner, a subscriber to many beliefs. Among them: President Barack Obama was a gay prostitute so he could pay for drugs; a group called "One World Order" is conspiring to start World War III; and the feds are interfering with her Facebook account.
Bruner is also the clear leader in a three-way Republican primary race for the Texas State Board of Education, and on Tuesday fell just 2% short of the 50% needed to bypass a runoff that would have secured the nomination, the Houston Chronicle reported.
That's not a belief; that's a fact.
Bruner will now battle second-place candidate Keven Ellis in a runoff election scheduled for May. Given Bruner's impressive showing on Tuesday, and the fact that a Republican is widely expected to win the general election, Board Member Bruner is a very real possibility.
And what could a Bruner term mean for Texas? Well, it could very well give her the opportunity to turn her odd beliefs into education policy for the state's 5 million schoolchildren.
Here are some samples from Gawker's compilation of Bruner's Facebook posts, many of which have since been taken down.
That Time the "Democrat Party Had JFK Killed":
"They sneaked the bad guy (LBJ) into the administration on the coat-tail of a good guy (JFK). Then they got rid of the good guy; in the end, they got a socialist president which is what they originally wanted."
The "Government Hoax" of Climate Change:
"Just think about how much money the government has wasted educating the people about the government hoax which officials first called 'Global Warming.' Government later changed the term to 'Climate Change' because government lies or predictions did not come true, and the people were becoming very suspicious because the world wasn't getting warmer. It was much easier to call the hoax 'Climate Change' because with the new name, corrupt government officials and scientists could say every hurricane, tornado, flood, drought, snow storm, earthquake, tsunami, blizzard, and EVERYTHING that happened was caused by 'Climate Change.'"
How Noah's Ark Proved Problematic for the Dinosaurs:
"The dinosaurs on the ark may have been babies and not able to reproduce. It might make sense to take the small dinosaurs onto the ark instead of the ones bigger than a bus."
How Secularism Causes School Shootings:
"The school shootings started after government removed the Ten Commandments and the Bible from public school buildings, and disallowed prayer at school and school events."
The Corruption of Children Via Sex Education:
"Many of the books which teachers read to your small children are not allowed in jails and prisons because of the bad effect the books have on the prisoners. These books stimulate children to experiment with sex."
The U.N.'s Goal to Kill 1/3 of the Global Population:
"It is a goal of United Nation's [sic] agenda 21 and the One World Order to reduce the population of the world by 2/3. ... It could mean that one of these methods of depopulation are in the Global plan: World War III, mass famine, mass disease epidemic or pandemic, or Nuclear Bomb."
The "Cult" of Islam:
"Islam is not a religion. Islam is an inhumane totalitarian political ideology with radical religious rules and laws and barbaric punishments for breaking the religious rules."
"Obama's Terrorist List" and How It Affects Her Life:
"[Facebook] is only partially shut down here. Sometimes my posts are not posted at all. [...] When you get on Obama's Terrorist List you get monitored closely and sometimes even censored."
The Gays:
"WE CANNOT ACCEPT THE FEDERAL GOVERNMENT STOMPING ON STATES' RIGHTS. WE CANNOT ACCEPT THE DESTRUCTION OF TRADITIONS WHCH [sic] ARE THOUSANDS OF YEARS OLD AND THE BEDROCK OF OUR SOCIETY. WE CANNOT ACCEPT A COURT RULING THAT SAYS IMMORALITY IS JUST AS APPROPRIATE AS MORALITY."
Finally, there's this excerpt from the Texas Tribune's Aman Batheja, in which Bruner explains that "Obama has a soft spot for homosexuals because of the years he spent as a male prostitute in his twenties. That is how he paid for his drugs."
In recent years, the Texas State Board of Education has endured harsh criticism for controversies over the state's educational guidelines, from textbooks downplaying slavery's role in the Civil War to attempts to insert Christian or biblical teachings into the curriculum.
To quote Bruner, "People, are you listening?"