San Francisco's Golden Gate Bridge Tunnel Is Now the Robin Williams Tunnel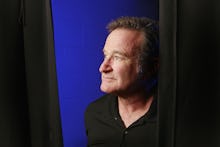 Genie, you're toll-free.
The tunnel connecting the Golden Gate Bridge to Marin County, California, formerly known as the "Waldo Tunnel" or the "Rainbow Tunnel" has a new name: the Robin Williams Tunnel. 
Huffington Post reported the California Department of Transportation installed the official signage on Monday. The organization then tweeted a photo from its account when the sign debuted Tuesday, flaunting the tunnel's iconic rainbow arch:
Within days of the actor and comedian's death in August 2014, Williams' former neighbor Julie Wainwright launched a Change.org petition to rename the tunnel in his memory.
"Robin wasn't just an international icon — he was an integral part of our community here in the Bay Area," she wrote. "I want him to be honored in an unconventional, everlasting and beautiful way. This is just one way that we can do that."
After the petition gathered nearly 62,000 signatures, the California State Senate passed a resolution in June approving the renaming of the tunnel. 
"Robin Williams will be remembered for making us laugh and for his generosity to others," legislators wrote in the bill, echoing Wainwright's memory of Williams. "It is altogether fitting to officially name what is commonly known as the Waldo Tunnel after Robin Williams."
And so it is.