11 Powerful Photos of Bernie Sanders Supporters from Super Tuesday 2016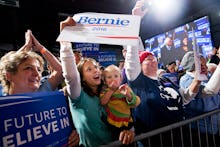 Vermont Sen. Bernie Sanders took home four states on Super Tuesday: Colorado, Minnesota, Oklahoma and Vermont — keeping him in the fight against his opponent, Democratic frontrunner and former Secretary of State Hillary Clinton.
Read: Bernie Sanders Just Beat Hillary Clinton in One of the Most Surprising States
Crowds of Sanders supporters were feeling the Bern all over the country on Tuesday. From the audience at Champlain Valley Exposition in Essex Junction, Vermont, where Sanders delivered a speech declaring victory in his home state, to polling places in Colorado and Massachusetts, here are some of the #Berners who turned out to support their candidate.
Israel Brooks of Stowe, Vermont, brought his daughter, 1-year-old Bronwyn Brooks, to Sanders' primary night rally in Essex Junction, Vermont on Tuesday. They both sported Bernie gear.
Dakota Hill held a Bernie Sanders sign as she waited in line to register for the Boulder, Colorado caucuses on Tuesday.
Across the Atlantic Ocean, Sanders supporters gathered in London to show support for the candidate on Super Tuesday.
Campaign volunteers in Austin, Texas went out canvassing before dawn on Tuesday morning.
Margarita Montero of Brighton, Massachusetts, showed her support for Sanders in her home state on Super Tuesday.
Sanders supporters cheered their candidate on Tuesday evening as he delivered a speech at his primary night rally in Essex Junction.
This Sanders supporter even snagged a hug from Bernie during the rally.
So did this one.
And this one.
Yiota Ahladas brought her Bernie-lookalike dolls to the Super Tuesday Sanders campaign rally in Essex Junction.
Supporters cheered as Sanders addressed the crowd on Tuesday night, telling them "So on a personal note, I want to thank all of you for the love and the friendship that you have given our family. You have sustained me."