Ruby Rose Is Now the Face of Urban Decay, and It Makes So, So Much Sense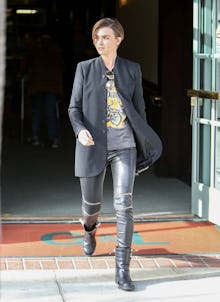 For those still verklempt of the news that Ruby Rose won't be returning to Litchfield Penitentiary for the upcoming fourth season of Netflix's Orange Is the New Black, do we have some good news for you.
The 29-year-old Australian has secured her next badass gig as cosmetic brand Urban Decay's "most addictive new vice." Yes, that is a job title. 
The role consists of "rocking our world and spreading the gospel of our self-expression, addiction to color and 'beauty with an edge,'" reads the brand's press release.
That might end up including a billboard, as Rose teased on Instagram, or a full-blown collection. Either way, pairing Rose with the cult favorite makeup brand makes sense. 
Not only has Urban Decay found success with celebrity collaborations like with Gwen Stefani, and not only is Rose a hot commodity, with roles in three upcoming franchise sequels. Rose also represents a new kind of makeup spokesmodel. 
In a statement to Fashionista, Urban Decay founder Wende Zomnir laid it out clearly: Ruby Rose embodies "what it means to be feminine, dangerous and fun" with her "f***-it attitude and playful spirit."
That "f***-it attitude" applies to limits of all kinds, including gender and sexuality. 
"Urban Decay believes in supporting individuality and personal self-expression — two values I hold very dear — because everyone deserves the freedom to explore their personality and discover their true selves," Ruby Rose said in a statement.
That she mentions "everyone" is one of the biggest reasons why Rose is a perfect ambassador for Urban Decay. Rose, who identifies as gender fluid, exemplifies the fact that makeup is not gendered nor tied to one's sexuality or appearance. Makeup, as society is finally catching on to, is for everyone, of all genders.  
"I feel like the stereotype that lesbians don't wear makeup, it's not true," she said to Daily Mail Australia back in February 2015. "There's probably as many lesbians that don't wear makeup as straight girls that don't wear makeup. Some people are into it, some people aren't and I think everyone wears some part of makeup, it's just how much they play with it and explore with it."
As for what to expect and when from the just-announced partnership? "Better things come to those who wait — just give it time," reads the press release. 
In the meantime, here's real-time footage of us waiting patiently: