If Donald Trump Wins, Moving to Canada Will Be a Lot Harder Than Americans Think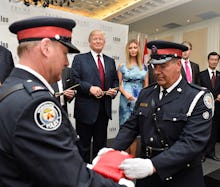 If billionaire Donald J. Trump's presidential campaign has scared you into researching how to move to our neighbors from the north, you're not alone — by the time Super Tuesday 2016 came to a close, Google search query for "How can I move to Canada" jumped 1,150%, Mashable reported Wednesday. Unfortunately for some, moving to Canada is a much more complex than simply asking Siri.
"Don't just assume you will be able to cross the border because you don't like it in the U.S. anymore," Immigration lawyer Henry Chang told Forbes back in 2012, after the New York Times reported some liberals were expressing similar sentiments if former Republican candidate Mitt Romney beat incumbent President Barack Obama. According to Chang, becoming a Canadian citizen "was always harder than many people thought."
Read more: Donald Trump Supporters React to His Super Tuesday 2016 Landslide
How to move to Canada (it's not easy): Moving to Canada has gotten more complex over the years, as the country has stopped accepting investor visas entirely, and has placed restrictions on several others. The skilled worker program was one of its most popular programs to help facilitate incoming workers, but the government has since placed restrictions on who will be accepted under new guidelines, Forbes reported. 
There are several permanent residency options Americans can choose from when applying to move to Canada, according to USA Today: the Skilled Workers and Professionals, Quebec-Selected Skilled Workers, Canadian Experience, Investors and Entrepreneurs, Provincial Nominees and Family-Sponsored categories. 
It's a tough task, and there is quite a bit of more extensive research to be done if one is truly insistent on moving to Canada. However, your friends saying they're packing their bags if Trump moves into the White House are probably the same ones who said the same when President George W. Bush was elected.
Fun fact: Previously, the Canada migration search query was at its record-breaking high when Bush was announced the winner in 2004, according to Voice of America. Check out Canada's immigration site if you're still considering.