Drake on 'Degrassi' and 4 Other Rappers Who Got Their Start on TV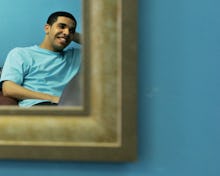 Aaron Lynett/Getty Images
Canadian rapper and songwriter Drake is arguably the greatest actor-turned-rapper of all time. Before his career as a rapper, the "Hotline Bling" artist made his mark on television as Jimmy Brooks, a wheelchair-bound character on Degrassi: The Next Generation. Drake appeared on the hit show as a regular in 2001 until his final appearance in 2009 when his career in the music industry began to take off.
"That was part of the reason I was kicked off the show," Drake told W Magazine in 2015. "Back then, I'd spend a full day on set and then go to the studio to make music until 4 or 5 a.m. I'd sleep in my dressing room and then be in front of the cameras again by 9 a.m. Eventually, they realized I was juggling two professions and told me I had to choose. I chose this life."
Drake may have made the right decision, as his fan base grows with every hit track. Here are four other rappers who made the career shift. 
Read more: What Is Nicki Minaj's Real Name? Here's How 9 Rappers Came up With Their Stage Names
Childish Gambino 
Donald Glover, better known by his stage name, Childish Gambino, is another actor-turned-rapper that has successfully made the jump. Glover first arrived on the scene as Troy Barnes on the NBC television series, Community. The actor was first hired as a writer on the television series 30 Rock, and is also one of the founders of Derrick Comedy, an internet sketch comedy group. 
Glover has released an impressive body of work including: Camp, Because The Internet, and STN MTN. Questlove from legendary hip-hop band the Roots believes that Glover is "a great amongst us," according to The Telegraph. "I have high expectations for his contributions to pop culture."
Hopsin
Though not a household name yet, Los Angeles rapper Hopsin started his career in the entertainment industry as an extra in various television shows and movies. "The That's So Raven thing, I was actually a day-player on there. I had to audition for it, but I've done like hundreds of shows," the 30-year-old artist told HipHopDX about his acting experience. "That was my job, being an extra, from like 15 up until age 22 years old. That was my job until I actually got an income from rapping. I was on a lot. I was on Lizzie McGuire, I've done extra work on That's So Raven, I've done extra work on Even Stevens, I've done it on the movie John Tucker Must Die."
Hopsin has since become an accomplished rapper, with the 2015 album Pound Syndrome. In the first week, the album debuted at number 17 on the Billboard 200.
Mack Wilds
Tristan Wilds, also known as Mack Wilds, has been in the entertainment industry since the age of 7,  according to BuddyTV. Wilds has appeared on several television shows, notably taking on the role as Dixon Wilson on the 2008 reboot of 90210, and as Michael Lee on HBO's hit series The Wire. The actor-turned-rapper also honed his talents on the big screen, as Zach Taylor in the 2008 film The Secret Life of Bees and later as Ray "Junior" Gannon in the 2012 film Red Tails.
While more of a singer than a pure rapper, Wilds released his first studio album New York: A Love Story in 2013. "For me, this album is a hip-hop album with melody," Wilds told NPR in 2013. "It's very based in an urban, dirty, gritty, but very beautiful sonically, New York place." Wilds continues, "That's where the music is coming from. There's no music that you hear that sounds like the landscape — and I guess the soundscape — of New York City. You don't hear anything that feels like the train stations or the cobblestone streets or even playing basketball at Rucker Park. You don't hear nothing like that."
Brian Austin Green
On the original Beverly Hills, 90210 television series, when Mack Wilds was still in diapers, Brian Austin Green played the high school freshman David Silver in the hit '90s TV drama. During his time on 90210, Green released a hip-hop album titled One Stop Carnival in 1996.
"Green's One Stop Carnival is the quintessential misguided celebrity record," Jason Ankeny wrote in a review of the 1996 album on AllMusic. "It's pallid, uninspired, and insufferably arrogant, with no acknowledgement that its very existence rests solely on Green's limited success as a secondary actor on a fading prime-time drama."