Zoe Saldana's Makeup in the New Nina Simone Trailer Is Making People Really Uncomfortable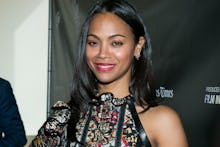 Is it possible for a black actress to appear in a movie... in blackface? Zoe Saldana gets too close for comfort in the trailer for her upcoming film Nina, a biopic about blues singer Nina Simone.
Here is the poster for the movie, which was published on Tuesday:
The trailer was released Wednesday. The reaction on social media was immediate:
Saldana's casting in the title role has been controversial since it was announced in 2012. The real Simone — who rose from impoverished beginnings in rural North Carolina to become one of the legendary artists and political voices of her day — was routinely criticized for her looks growing up.
"My mother was raised at a time when she was told her nose was too wide, her skin was too dark," said Simone's daughter, Simone Kelly, in a 2012 interview with the New York Times. 
As such, many view the singer's appearance as not just central, but essential to her identity. They also find it offensive that instead of casting an actor who resembles Simone more closely, the filmmakers chose Saldana — a fairer-skinned performer of Dominican and Puerto Rican descent — and changed her appearance using makeup and prosthetics.
As in really, really unconvincing makeup and prosthetics:
Lanita Jacobs, a professor of anthropology at the University of Southern California, told NPR in 2012 that Simone's looks were inextricable from how she went about her art. "Nina's music taps into a certain kind of awareness born of the way she looks," she explained.
"We understand that there are these beauty issues," she told NPR, "and sometimes what sanctions people's right to speak on these kind of issues is whether they have had experiences born of what it means to have kinky hair, or to have wide noses or darker skin."
In the four years since the announcement, backlash against the project has only grown. Kelly has publicly denounced the film, and a Change.org petition calling for a Nina boycott has collected more than 11,000 signatures to date.
Nina Simone's estate is even trolling Saldana on Twitter:
Now with the trailer, the movie is being torn apart on social media ahead of its April release.
Some users have even started posting images, videos and quotes from the real Simone as an effort to reclaim her, using the hashtag #WeLoveYouNina.
What a mess. Nina comes out in theaters April 22.
March 3, 2016, 10:19 a.m.: This story has been updated.