This Oregon Marijuana Dispensary Is Donating Some of Its Profits to Bernie Sanders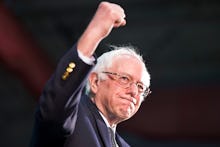 These Bernie Sanders supporters are truly feeling the Bern and the burn: Portland, Oregon-based marijuana dispensary Foster Buds announced on Tuesday that the business would join with local marijuana grower Farmer 12 to donate a total of 10% of the sale of every Farmer 12 Cone, a pre-rolled joint, to the Sanders campaign.
Read: Bernie Sanders Just Beat Hillary Clinton in One of the Most Surprising States
"He is just the biggest advocate for the marijuana industry right now," Ken Martin, the manager of Foster Buds, told Mic, speaking about the business' decision to support Sanders.
A Farmer 12 Cone, which contains a gram of marijuana, costs $10 each, according to Foster Buds' website. Martin told Mic that Foster Buds typically sells "a couple hundred a day" but that, since announcing the plan to donate to the Sanders campaign, "we're selling a lot more now," and that customers are coming in specifically "to support Bernie."
"Cannabis enthusiasts, supporters and medical patients come from every walk of life now, and we all deserve a president who will rally to reschedule cannabis and transform America's cannabis policies," the business announced on social media on Tuesday. "We believe Bernie Sanders is the best and most likely candidate to appropriately represent the needs of our community."
"[Customers are] all super excited," Martin told Mic. "They're supporting a guy that is trying to get cannabis legal."