Michael Jordan Named to Forbes' Billionaires List for Second Year in a Row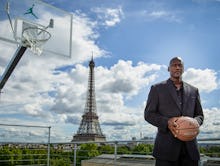 Michael Jordan, welcome to the world of billionaires — for the second year in a row. The man, the myth and the basketball-wielding business mogul with his name attached to several multi-million dollar endorsements has been included in Forbes' list of the globally rich and famous, which is, of course, exclusive only to billionaires.
Not only did the former NBA player make the list this year with an impressive real-time net worth of $1.14 billion, but Jordan even managed to climb the rankings, going from No. 1741 to No. 1577 in 2016. According to Forbes, Jordan is now the 486th richest person in the United States. 
Read more: Michael Jordan Just Donated the Money He Won in a Lawsuit to Several Chicago Charities
"A well-timed investment in the Charlotte Hornets basketball team lifted star athlete Michael Jordan into the billionaire ranks in 2015, and is keeping him there this year," Forbes reported Wednesday.
However, Jordan's pathway to becoming a billionaire was a long, winding road. He was only twice the highest-paid player in the NBA throughout his career, though his reputation stands as one of the league's greatest players in history. 
"His total career playing salary was $90 million, but Jordan has earned another $1.2 billion (pre-tax) from corporate partners since he left North Carolina in 1984," Forbes continued. "His biggest backer has always been Nike, which generates $2 billion in revenue annually from the Jordan Brand. Nike commands 90% of the U.S. basketball shoe market, with the Jordan Brand representing more than half of that. MJ maintains his longtime endorsement relationships with Gatorade, Hanes and Upper Deck. He also owns seven restaurants and a car dealership."
So there it is: With a little bit of luck, the right investments, the incredible gift of being uber-talented at a trade or sport and a killer shoe-game is all you need in order to join the world of billionaires. Shouldn't be that hard.