Venus Williams Wrote an Essay About Serena That Attests to the Power of Sisterly Love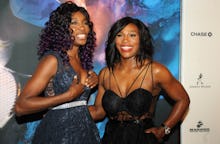 In a new essay for The Players' Tribune, divine tennis diva Venus Williams has written about her emotional decision to return to the Indian Wells tournament next week. Her decision came at the tail end of a 15-year boycott due to the verbal harassment she and her sister Serena encountered the last time they both played in the tournament.
But taken as a whole, the essay is really just a moving ode to the power of sisterhood.
Venus begins by explaining how being "the big sister" can shape the experience of a woman's life. Older sisters, she writes, usually experience a series of firsts: she was the first to learn to drive, the first to stay home alone and the first to become a world-famous tennis pro. (Perhaps that last one is Williams sisters-specific, but whatever.)
"Being the big sister meant that, when my little sister made her professional debut, I became a lot of new things to her — her colleague, her competitor, her business partner, her doubles partner," she wrote of Serena's eventual entry into the world of professional tennis. 
"But I was still, first and foremost, the one thing I had always been: her family. I was her protector — her first line of defense against outside forces. And I cherished that."
Later, she continues:
Being someone's big sister means being strong for them.
Venus goes on to say that her decision to return to Indian Wells after a 15-year boycott was directly inspired by Serena, who got really into Nelson Mandela's teachings on forgiveness and decided to return to Indian Wells herself last year.
"It was in that moment, seeing Serena welcomed with open arms last year at Indian Wells, that I think I fully and truly realized what being the big sister means," she wrote. "It means that, for all of the things I did first, and all of the times when I paved the way for Serena, the thing I can be most proud of is this time. When Serena paved the way for me."
Whether on the court or off, the Williams sisters have always been open about how much family means to them. In 2008, for instance, after Venus beat Serena at Wimbledon, she followed up her victory by telling reporters, "My first job is big sister and I take that very seriously!"
The essay is worth a read in its entirety, so check out the full thing here. Also, you should probably give your sister a call tonight. She misses you and she wants to know how you're doing. 
h/t BuzzFeed