Caitlyn Jenner Finally Receives New Nameplate at Sherwood Country Club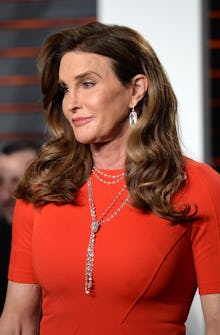 Almost a year after Caitlyn Jenner publicly revealed her transgender identity, Jenner has done much to expand America's understanding of her and her experience. On Wednesday, Jenner shared the most recent example of such acceptance on Instagram: The country club to which she has belonged for years updated her locker's nameplate to "Caitlyn Jenner."
Jenner's post follows previous reports that she had been banned from the club after publicly identifying as transgender. The institution, however, disputed that in June, stating that Jenner "has and continues to be a valued and long term member at the club," according to Us magazine.
It's worth noting that some may view Jenner's understanding of true acceptance as tied to an "elite" club is undeniably part and parcel of her privilege: The club charges a $300,000 initiation fee, Us reported in June. Jenner's privilege has been repeatedly criticized over the past year, especially considering that the transgender population, at large, is undeniably disadvantaged and marginalized.
However, it's also encouraging to see Jenner accepted by any group — especially an institution known for perpetuating discrimination.