Here's Why People of Color Can't Simply Laugh Off Trump, Threaten to "Move to Canada"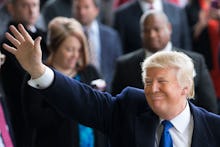 Three words have the potential to strike fear into the hearts of millions of Americans: President Donald Trump. 
As the world watched Trump's campaign for 2016 GOP presidential nominee go from preposterous to possible to, some might say, probable, more and more Americans are threatening to pack their bags.
Read more: Ohio Farmer Spends 4 Hours Writing Massive Anti-Trump Message in Cow Manure
But amid all the empty threats flooding social media, one tweet rose above them all, providing context for the jokers. The tweet laid out that while some (read: white people) are taking the possibility of President Trump in jest, plenty others (read: minorities) simply can't afford to.
Indeed, Trump's messages seem to have inspired in his supporters a pattern of violence against people of color.
In August, two Boston men reportedly beat a homeless man with a metal pipe, while spouting citing Trump's hardline anti-immigrant policy. "Donald Trump was right," police cited them as saying, during the attack. "All these illegals need to be deported." 
Trump later tweeted a condemnation of the incident, but in a press conference later said, "I will say, the people that are following me are very passionate. They love this country, they want this country to be great again."
In November, a Black Lives Matter protester was "shoved and tackled" to the ground by at least a half-dozen attendees at an Alabama rally, according to CNN. Trump's response? "Maybe he should have been roughed up," he said on Fox and Friends. "It was disgusting what he was doing."
Furthermore, on Monday, security removed 30 black students from a Trump rally in Valdosta, Georgia. And the next day, Super Tuesday, Trump supporters at his rally in Louisville, Kentucky, forcibly removed a young black woman. Some reports say the woman's aggressors were white supremacists. 
And the list, sadly, goes on.
What's more, there's hard data that speaks to the troubling convictions of Trump's supporters. In February, Public Policy Polling conducted a survey asking whether Republican voters in South Carolina agreed with the statement "whites are a superior race" — 16% of Trump supporters said yes, and 14% were unsure.
Additionally, 38% of supporters wished the South had won the Civil War, a whopping 70% wished the state capital still flew the Confederate flag and 80% supported Trump's proposed Muslim ban. 
As Last Week Tonight host John Oliver said in his 22-minute Trump roast: "Donald Trump is America's back mole ... It may have seemed harmless a year ago, but now that it has gotten frighteningly bigger, it is no longer wise to ignore it."
But for people of color, Trump is a threat that looms even larger.
Get the five stories that will challenge you to rethink the world by signing up for MicCheck Daily.