10 Drake Lyrics That Prove Sad Drake — Is the Best Drake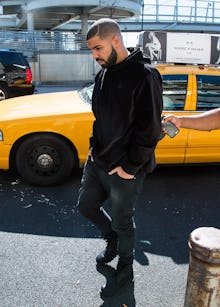 Gilbert Carrasquillo/Getty Images
Maybe it's because he's immersed deeply in his feels and it's hard for him to see beyond them sometimes, or because he knows that what we need is to let our eyes run freely like faucets, or because he is forever being wronged. No matter the reason, the fact remains: Drake has a special skill for tugging on our heartstrings.
Read more: Drake on Cake: This Instagram Account Puts Drake Lyrics on Cake and It's Perfect
Should anyone want to dispute that fact, here are 10 Drake lyrics that prove #SadDrake is at his best when he's comically melodramatic. Go ahead, cry in public. Drake isn't here to judge.
1. "You know I spend money because spending time is hopeless/ And know I pop bottles because I bottle my emotions." — from "Fear"
2. "I was young and I was selfish/ I made every woman feel like she was mine and no one else's/ And now you hate me." — from "Furthest Thing"
3. "I'm scared that every girl I care for/ Will find a better man and end up happier in the long run." — from "Missin' You (Remix)"
4. "We coulda worked it out, uh, but I guess things change/ It's funny how someone else's success brings pain/ When you no longer involved, that person has it all/ And you just stuck standing there." — from "Say Something"
5. "I don't wanna miss the boat, I don't wanna sit in coach/ I don't wanna sit at home, I gotta get where I'm going/ I'm afraid that I'mma die before I get where I'm going/ I know I'mma be alone, I know I'm out on my own." — from "Now & Forever"
6. "Where did the other half of my heart go?/ Why am I in bed alone?" — from "Where Were You?"
7. "I just hate sleeping alone." — from "Hate Sleeping Alone"
8. "You're still the one that I adore/ Ain't much out there to have feelings for." — from "Own It"
9. "Having conversations with mama, man, my life is a mess." — from "You & the 6"
10. "But if it falls apart, I'm always still down / To pick a million tiny little pieces off the ground / Wish you would learn to love people and use things / And not the other way around." — from "Connect"