Drake Blew Up After Degrassi, But What Are the Other Actors Doing Now?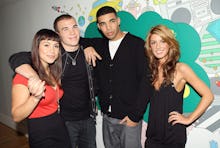 Scott Gries/Getty Images
OVO rapper Drake got his start in the entertainment industry at a young age in a role on the hit television series Degrassi: The Next Generation, playing Jimmy Brooks, a high school basketball star paralyzed after a school shooting. Deciding to leave his Degrassi acting career, the actor-turned-rapper devoted his entire career to music. 
After the superstar rapper Lil' Wayne signed the Canadian artist, Drake became a pop superstar with his 2009 project So Far Gone and followed up his initial success with his first studio album in 2010, Thank Me Later. Now, Drake is a household name, as fans wait for his newest album Views From The 6. However, Drizzy hasn't forgotten his roots.
Read more: Drake's Instagram Photo Is Proof the Release Date for 'Views From the 6' Is Near
In August, Drake met up with his former Degrassi co-stars Daniel Clark (Sean Cameron), Adamo Ruggiero (Marco Del Rossi) and Lauren Collins (Paige Michalchuk) for the Toronto premiere of We Are Disorderly, which stars former Degrassi actors Al Mukaddam and Mazin Elsadig, according to Billboard. 
We all know that Drake is doing well, but what about some of his fellow co-stars?
In December, the rapper met up with Andrea Lewis, who played Hazel Aden, Jimmy Brooks' long-time girlfriend, in Degrassi: The Next Generation. He posted an image of the two together on Instagram, with the caption: "Forever my ting." Lewis appears to have kept her acting career going, having created a web series called Black Actress. The web series, produced by actress Tatyana Ali, Awkward Black Girl's Issa Rae, debuted in 2013.
Clark went on to attend New York University after leaving the show. He interned with MSNBC's The Rachel Maddow Show and ABC News, and now works Dissent Media Corporation, a production company. 
Ruggiero continued his career in the TV industry by hosting the Canadian reality TV show The Next Star until 2012. Collins has one of the more notable acting careers from the former Degrassi cast list, having starred in several films and television shows since leaving the show. Her most notable roles were on the Disney Channel show Life with Derek and in the 2007 film Charlie Bartlett.
Jake Epstein, known in the series as the musically inclined Craig Manning, found a home in theater, and is an alternate Spider-Man in the Broadway hit play Spider-Man: Turn Off The Dark.
A few other cast members followed Drake into the music industry, with varying levels of success. Cassie Steele, who played the role of Manny Santos was successful, releasing several albums, including How Much For Happy and Destructo Doll. Shane Kippel, who played Gavin "Spinner" Mason in the TV series, also found success in music — he is the lead drummer for the Canadian alternative rock band Dear Love.