Texas Voters Just Elected a Man Who Thinks the Rest of the Party Can "Go Fuck Themselves"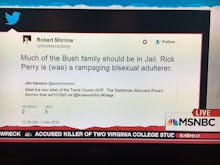 The people of Travis County, Texas, voted Tuesday one Robert Morrow — a man famous for his tweets about everything from cuckoldry to former Gov. Rick Perry's sexual orientation to "angry bull dyke" Hillary Clinton — to county chairman of its Republican Party.
No one appears to be quite sure how the 51-year-old self-employed investor managed a 54% victory in the Super Tuesday race, but however it happened, Morrow is now chairman of the county that includes the Texas capital of Austin.
But while the Texas Tribune reports that Republican officials are furious with the results, primary voters granted Morrow a sweeping victory. With over 25,000 ballots in his corner, he led incumbent James Dickey by 6,000 votes.
And let's just say Morrow has a lot of opinions.
He is not ashamed to admit to his love of breasts:
In a 2011 appearance on InfoWars, Morrow detailed his theories about Perry's sexual orientation.
According to Gawker, Morrow also runs several websites, including rickperryfraudhypocrite.blogspot.com and barrysealmurder1986jebbusholivernorth.blogspot.com.
"I have enjoyed Donald Trump trashing the GOP elites, the Democrats and the media," Morrow wrote on the first blog. "But don't give your vote to Trump, when you can get a real conservative such as Ted Cruz."
The newly minted chairman is "the face of the party in media appearances, plans the party's primary election, certifies primary candidates and organizes precinct conventions," reports the Statesman. In a video interview with the paper, Morrow showed off his vast library of books about the Clinton family and the assassination of John F. Kennedy.
According to the New York Times, Morrow did not campaign extensively for the position. Travis County GOP vice chair Matt Mackowiak theorizes Morrow won due to an influx of first-time voters who just decided they liked the name "Robert Morrow" more than "James Dickey."
"I'm treating this as a coup and as a hostile takeover," Mackowiak told the Tribune, vowing to stonewall Morrow influence — and keep him off the county's social media accounts.
"I will not rest until we remove him as chairman. He's going to be an absolute embarrassment to the party. And if we fail in these efforts, we will start an alternate organization."
Morrow was ready with a reply.
"Tell them they can go fuck themselves."
h/t Texas Tribune