Miley Cyrus Is Threatening to Leave the Country in the Event of a President Trump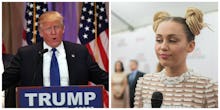 Donald Trump is the political equivalent of a wrecking ball, according to Miley Cyrus. 
In a series of Instagram posts Wednesday, she joined the masses of people threatening to leave "da country" if Trump becomes president.
Read more: Donald Trump's Hollywood Walk of Fame Star Defaced With Swastika
In another post, Cyrus wrote: "If he doesn't think he is 'God' he thinks he is the fucking chosen one or some shit! We're all just fucking jam between his rich ass toes! Honestly fuck this shit I am moving if this is my president! I don't say things I don't mean!"
Cyrus's outrage was further emphasized by a regram of one Instagram user's shot of her bloody hands post-hunt. Blood on one's hands. Get it?
Trump swept Super Tuesday, claiming seven out of the 11 states up for grabs, firmly asserting his place as the GOP frontrunner in the process. 
As his nomination looks increasingly inevitable, plenty of Americans — including those within the Republican Party itself — are getting jittery.
So, Miley, you're not alone. Should President Trump become a reality, many believe that party in the USA might be canceled indefinitely.
Get the five stories that will challenge you to rethink the world by signing up for MicCheck Daily.