Mitt Romney Rips Into Donald Trump: He's a "Fraud"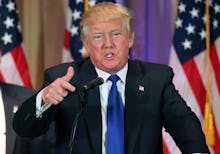 Former Massachusetts Gov. and 2012 GOP nominee Mitt Romney came out swinging against Republican presidential candidate and real estate mogul Donald Trump, CNN reported on Thursday. According to  CNN, Romney said he thinks Trump's taking American voters for fools. Romney's Trump takedown trails sweeping wins for the party's frontrunner during Super Tuesday this week, yet nevertheless, Romney thinks Americans should direct their votes elsewhere.
"Donald Trump is a phony, a fraud... [he's] playing the American public for suckers," Romney said, according to CNN. Romney is expected to deliver a speech on Thursday at the University of Utah, and given his recent remarks on Trump, his speech will not likely include a sterling endorsement of Trump. 
Read more: Mitt Romney Is Planning a Big Speech on the State of the Presidential Race
On Tuesday, Trump triumphed at the polls in Alabama, Arkansas, Georgia, Massachusetts, Tennessee, Vermont and Virginia. His main challenger — for now — is Texas Sen. Ted Cruz. The GOP nominee runner-up won Alaska, Oklahoma and Texas. 
Florida Sen. Marco Rubio took Minnesota, while former neurosurgeon Ben Carson won in exactly zero states during Super Tuesday's caucuses. Though Carson's not yet ready to pull the plug  on his bid for the 2016 Republican  nomination, the candidate conceded Wednesday that he doesn't see a "path forward" for his candidacy.
"I have decided not to attend the Fox News GOP Presidential Debate tomorrow night in Detroit," Carson said in a statement on Thursday. " Even though I will not be in my hometown of Detroit on Thursday, I remain deeply committed to my home nation, America. I do not see a political path forward in light of last evening's Super Tuesday primary results. 
The remaining candidates will gather in the Great Lakes State to debate at the Fox Theatre in Detroit, Michigan. Bret Baier, Megyn Kelly and Chris Wallace will moderate the evening, and the main event begins at 9 p.m. Eastern. Given Romney's remarks, it's likely Trump will be asked to respond — and the gloves are off.