Donald Trump Claps Back at Mitt Romney, Says "He's a Stiff"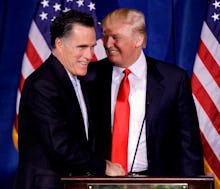 Billionaire and Republican presidential frontrunner Donald Trump has lashed out against former presidential nominee Mitt Romney, ahead of Romney's anticipated Thursday speech at the University of Utah — where he's expected to take the gloves off and attack Trump's campaign. Though an aide told Mic Romney's forthcoming speech "is not an endorsement or announcement of candidacy," the former Massachusetts governor has used Twitter and the media to lambast Trump, most recently calling him a "phony, a fraud," on CNN.
"Mitt Romney is a stiff," Trump told Today Show host Matt Lauer. "Mitt Romney will not get elected. Mitt Romney failed twice, and really failed last time. He was going against the president that should've been beaten."
Read more:  Mitt Romney Rips Into Donald Trump: He's a "Fraud"
"The president was not doing well and he should have been beaten," Trump repeated. "That should have been an easy election, the problem is, nobody came out to vote for Mitt Romney and I'm talking about Republicans. They didn't come out, I mean, it's well documented. I'm not just saying this, they didn't come out to vote for Mitt Romney!"
Trump took the rhetoric a step further, unleashing an attack video against Romney on Facebook titled "Mitt Romney Not Conservative." The video features the former presidential candidate discussing his views on an amnesty program being created for undocumented immigrants in the United States, Obamacare, abortion, bailouts and global warming. His ideology seems much more centric than the recent statements Trump has made against Muslims, Mexicans and Planned Parenthood, to name a few:
The relationship between Romney and Trump wasn't always so rocky. Looks like Trump is officially peeling the Romney 2012 presidential endorsement sticker off his back bumper.