H&M's Impressively Diverse Fashion Week Show Is an Example Other Designers Should See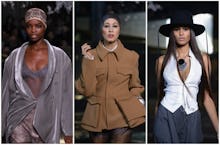 During New York Fashion Week, Kanye West's Yeezy Season 3 show was praised for hiring 100% models of color. Chromat was praised for having casting a diverse array of models from ones who are amputees, plus size and racially diverse. But the most impressively inclusive runway so far may just be from a retailer you're familiar with. 
At Paris Fashion Week on Wednesday, Swedish megaretailer H&M staged a runway show with a wide array of models, including ones who are plus size, transgender, a variety of races and ethnicities and even ages. 
It was basically a "who's who" of models who are trying to change the game, all on one runway. 
Highlights included Ashley Graham, who was recently announced as the first plus-size model to grace the cover of the Sports Illustrated swimsuit issue...
Hari Nef and Andreja Pejic, who each identify as transgender...
Maria Borges, who made headlines in 2015 for being the first woman of color to walk the Victoria's Secret runway with natural hair.
There were Amber Valletta, who is 42, and Pat Cleveland, who is 65... 
... and top supermodels like Jourdan Dunn and Soo Joo Park. 
That sort of diversity is what critics have been calling on most high-end designers to do for years. But what makes H&M's show matter in particular: It's for a brand we all probably recognize. It's one most of us can afford and readily access. 
Like H&M did with its runway show for its collaboration with Balmain in 2015, this show is a clear example of a brand making its runway reflect its customers — and celebrating diversity on a platform lots and lots of people will not only see, but end up embracing themselves when they shop.
After all, these are clothes that will hopefully be stocked at an H&M near you. Look out for a decidedly Southwestern look — several models, including Graham and Nef, wore huge black hats a la Georgia O'Keeffe. Borges and Pejic modeled clothes with definite menswear inspiration, with long, loose jackets worn over deconstructed suits and pretty dresses. Also, feel free to tuck your skinny jeans in the back of your dresser drawer, because H&M wants your legs to breathe once more. 
And if you're wondering what these clothes might look like on you? Well, thankfully, there's probably at least one model on the runway you can relate to, no matter your size, age or identity. Which is the whole point of diverse, inclusive runways in the first place, right?