The Best Moments in the SCOTUS Abortion Case Where the Female Justices Ran the Court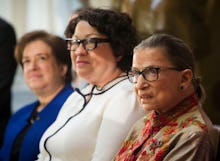 The Supreme Court heard Wednesday the most important, highest-stakes abortion case in a generation. In light of the rapid increase in state-level attacks on abortion access, the case seeks to determine exactly how difficult obtaining an overwhelmingly safe, common medical procedure can legally be. 
The three female justices demonstrated that if they have their way, unnecessary obstacles to abortion may soon be knocked out of the way. As Dahlia Lithwick reported in Slate, the justices came to court ready to fight: Ruth Bader Ginsburg and Sonia Sotomayor even "blew past" Chief Justice John Roberts' attempts to move on and instead continued to ask questions at their own will.
Read more: Meet the Woman Behind the Supreme Court Case That Could Change the Game for Abortion
Here are a few other times the female justices, armed with knowledge and evidence, went to bat for the American women they serve. 
Justice Ruth Bader Ginsburg called out the "ambulatory surgical center" requirement. 
Whole Woman's Health v. Hellerstedt generally challenged HB2, a Texas omnibus abortion bill passed in 2013, but specifically targeted laws that require doctors to obtain admitting privileges from a hospital no more than 30 miles from the abortion clinic where they work and to meet building standards that render them "ambulatory surgical centers." 
Many have pointed out that such standards are medically unnecessary, and the Notorious RBG was quick to echo them. 
"What is the benefit of the medical — the two pills that you take — what is the benefit of having an ambulatory surgical center to take two pills when there's no ... surgical procedure at all involved?" Ginsburg asked Scott Keller, the Texas solicitor general who was arguing on behalf of Texas, according to Bustle.
While the defense responded by pointing to "complications" associated with drug-induced abortion, studies are on Ginsburg's side: These rates are relatively low.
Sotomayor also questioned the logic behind legally permitting a non-abortion dilation and curettage — a procedure commonly, legally performed in association with miscarriage — to occur in a doctor's office while requiring a nearly identical procedure performed for the purpose of abortion to be performed in an office that must meet hospital-like standards, Slate reported.
Justice Elena Kagan questioned the defense's claim that the law exists to protect women from abortion complications when the procedure rarely has any.
Not only does the low complication rate of abortion seemingly render hospital-like building standards unnecessary, but it seems to throw the entire logic of paternalistic protection at the core of HB2 into question, according to Kagan. Standards for much riskier procedures — like colonoscopies and liposuction — aren't legislated in the same way, she pointed out. 
And she's right. As none other than John Oliver pointed out in a recent episode of Last Week Tonight, the Centers for Disease Control and Prevention reported that abortions have a mortality rate of just 0.00073%, a rate about 10 times less than what one study found was the risk for dying as the result of a colonoscopy.
Ginsburg also questioned the defense's claim that abortion is risky.
Despite Keller's repeated defense that many of HB2's requirements address the complications of abortion, the female justices repeatedly noted that abortion is safe, MSNBC reported.
The indomitable Ginsburg particularly combated this faulty argument, even resorting to what Mother Jones described as a "hint of exasperation."
"Is there really any dispute that childbirth is a much riskier procedure than an early-stage abortion?" Ginsburg asked (referencing plenty of evidence that indicates there is none).
Justice Stephen Breyer doubled down on this argument, suggesting that additional burdens placed on women may actually put them in more danger.
"Are there going to be more women or fewer women who die from complications?" Breyer asked according to MSNBC.
Of course, the determination of these justices may still not be enough to sway Justice Anthony Kennedy, the vote many expect will make all the difference. But hopefully Kennedy will take not only Ginsburg, Sotomayor, Kagan and even Breyer's perspectives into consideration, but also U.S. Solicitor General Don Verrilli's apt closing statement. 
As Verrilli hauntingly warned the justices, "If you do find that this law is upheld, what you will be saying is that this right really only exists in theory and not in fact."