Republican Debate Livestream 2016: How, When and Where to Watch the FOX GOP Debate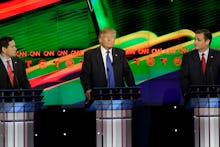 Telemundo/Getty Images
For what feels like the one hundredth time but is actually just the eleventh, the Republican candidates will gather on Thursday night for another rousing debate, during which they will invariably come to verbal fisticuffs over what have been the defining moments of this, the 2016 presidential primary. The action will kick off live from Detroit, Michigan at 9 p.m. Eastern and will be hosted by Fox — viewers can watch the broadcast on TV or on the network's live stream. 
While some may feel like they've heard this song and seen this dance just way too many times before, co-moderators Bret Baier and Megyn Kelly promise they'll be hitting the presidential hopefuls with new questions from new angles, for riveting results.
Read more: Super Tuesday 2016: Here's Who Won in Every State
"Likely, there's going to be some fireworks," said Baier in a preview of the event, predicting that a central issue of the evening would be bringing down party frontrunner Donald Trump, who will take the number one position onstage once again. 
The not-a-politician politician enjoyed a sweeping win on Super Tuesday, winning seven of the 11 states holding primaries and consolidating his lead on the GOP opposition. 
Joining him will be Texas Sen. Ted Cruz in second, Florida Sen. Marco Rubio in third and Ohio Gov. John Kasich in fourth — while he is still in the race, former neurosurgeon Ben Carson declined to participate in Thursday's Republican debate. 
ICYMI, we have a full rundown of the goings on at the 10th GOP debate, which took place on Thursday, Feb. 25. How many more of these do we have to look forward to? At least two more. Brace.